Fall/Winter: 2 0 21 - 2 0 2 2

Return to Spring/Summer 2021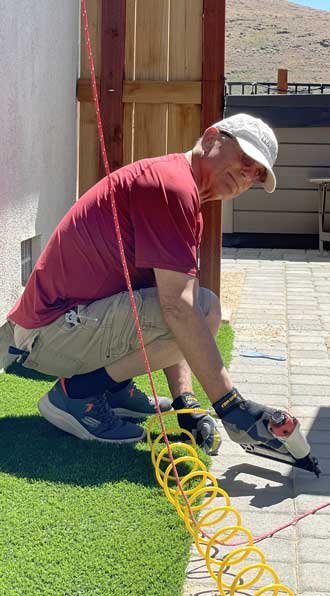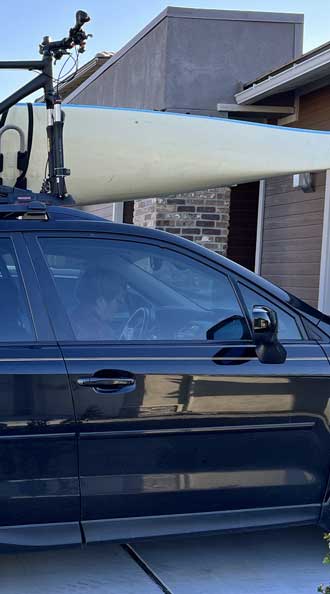 April 28 - May 8, 2022: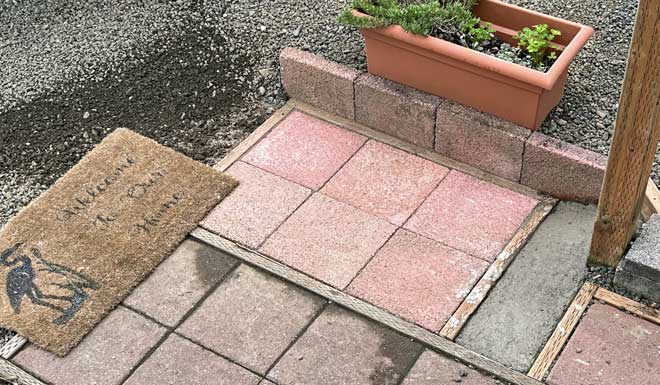 Monday, April 25, 2022: This small project is finished. Gwen did not like the white block border and gave me the idea of setting the red pavers on edge as a border. That idea worked out well.
I needed sand for a base. The park has sand stored and usually sells it by the tractor front loader bucket. I drove the golf cart to the sand pile and loaded 2.5 gallons into a 5 gallon bucket. When I reported this to the office I was surprised to learn they already had a price for 5 gallons of sand. They charged me 60¢ for my 2.5 gallons (half the 5 gallon price).
Sunday, April 24, 2022: I chose to start with the smallest paver project first. We want to make the walk slightly wider and put a block wall to keep the gravel off the pavers. I worked on this all afternoon and still not finished. I need a few more supplies to do it right.
Rebar is used to hold the 2 x 4"s in place. It is pretty tough to drive 16" of rebar into this rocky ground. Additionally, my drain pipe to keep the patio from flooding had to be lowered to allow the block to pass over the top. A handmade leveling jig is used to level the base. I need sand as a base which I will get tomorrow.
Click both photos to see the progress of this project.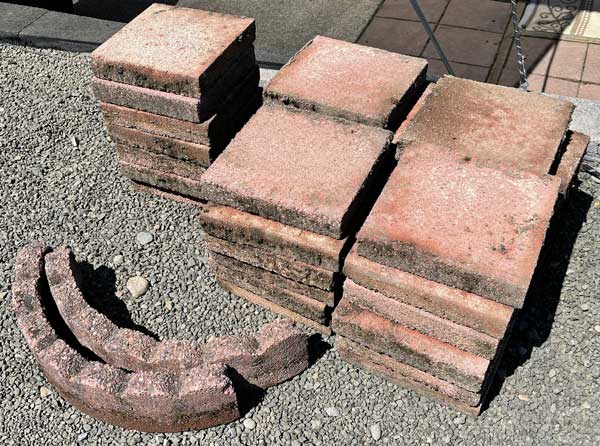 Friday, April 22, 2022: I noticed our park manager reviewing Ken's lot. Ken has left the park for the last time to live in North Carolina with his son. Once a member leaves the park the manager determines what must be done with the vacant lot before it is given to the next RVer on the wait list. In this case nearly all of the paving stones are to be removed. The manager asked for my help and gave me permission to keep some of the stones. I asked Gwen if she wanted them which gave her the opportunity to tell me the project she had in mind. I used our new golf cart with the new cargo box to make several trips moving more than 50 of the stones to our lot. I'll work on the project next week. It is a relatively small project so I hope to finish it within one or two days. Of course I need to fit this new project into my Zwift and road riding schedule. Click the photo to see the finish of today's Zwift ride.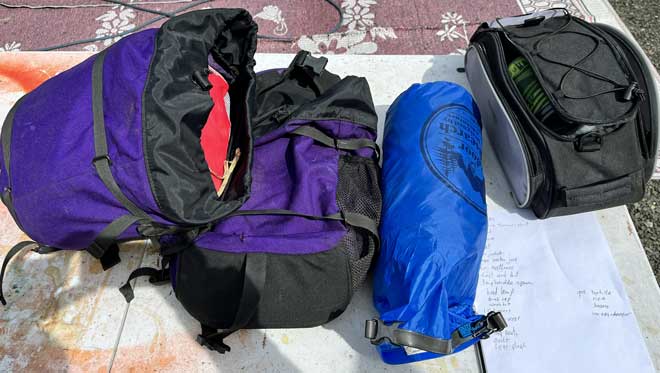 Wednesday, April 20, 2022: My friend Glen has already gathered his bikepacking gear and stuffed it into his bags to be sure everything fits. I chose today to do the same. Glen made a list of everything so I did too.
I learned I can easily get everything into my panniers because we aren't camping. It would be very tight if I had to pack my hammock and stove in addition to more food packets. That challenge may come next.
Here is a PDF copy of my list which may change as we get closer to May.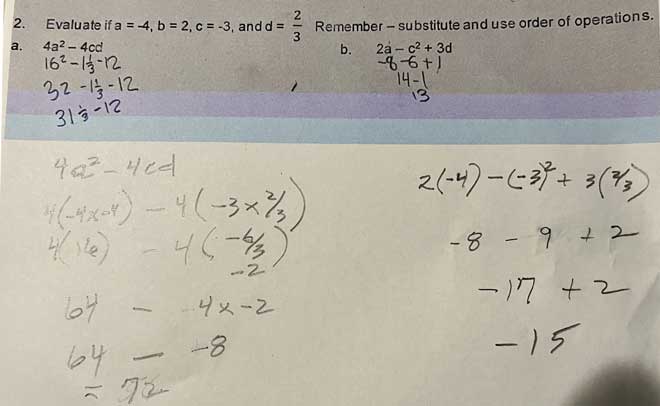 Monday, April 18, 2022: My day began early with Gwen. She scheduled her normal lab work this morning then shopping afterward. We returned from our shopping in early afternoon. I spent the rest of the day updating and configuring our WiFi router and extender. About that time I got a text message from son Ben concerning a math problem his daughter, Chloe needed help. Since it has been 55 years since doing this sort of math I reviewed "order of operations" and did the problems myself. But before sending the procedures back to my granddaughter I sent the problems to my friend Erik who gave the problems to his son, Andrew who is in the 11th grade. Andrew is a straight A student. He corrected one small error I made and sent the problems back to me. I got on the phone with Andrew to understand my mistake then forwarded the procedure to my granddaughter. Chloe is in the sixth grade. I didn't do this sort of problem until I was in the second half of ninth grade. I do enjoy math so I hope she sends me more problems. Click the photo to enlarge.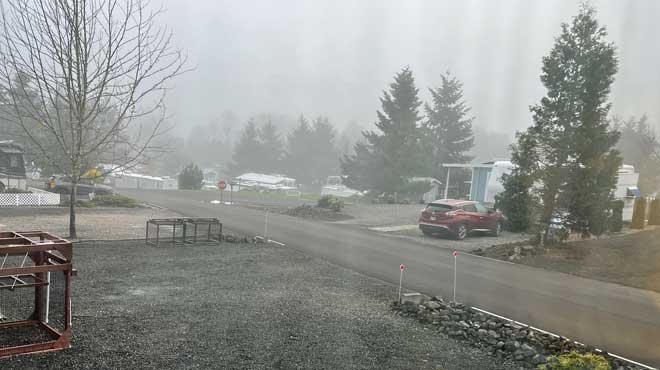 Friday, April 15, 2022: This day began with a vet appointment for Abby. It was her 2 year wellness check and update on vaccinations. She behaved well except for the oral Kennel Cough dose. She didn't like any part of that. I was surprised with how easy the vet gave prescriptions for tick and flee preventive medication and the Heart worm medication. He usually prefers to fill those prescriptions himself rather than prescribe to Costco.
In the afternoon, I participated in an advisory committee meeting of how the state of Oregon should create incentives for eBikes as a possible method of getting cars off the road. It was a virtual Zoom meeting with nearly 50 attending. The number one suggestion was better infrastructure for bike lanes and bike paths. Number two was a tie between better bicycle parking areas and some sort of rebate to reduce the price of eBikes. This was the first meeting so I expect to participate in more discussions. The photo is of our Sutherlin mornings if there is to be no rain. We get fog on days without rain.
Wednesday, April 13, 2022: Gwen and I took the day to drive to Eugene to visit the stores we don't have nearby. Stores such as Trader Joe's and Hobby Lobby. We also visited Chipotle for lunch which also don't have nearby.
We are beginning to think about the food we will take on our bikepacking trip in May. Glen is promoting beans in a pouch to put inside a tortilla. I plan to have a Mountain House freeze dried meal for one dinner but I still need a breakfast and lunch. The Chile Spiced Pineapple is NOT a choice for me due to the spice. Beans and rice in a tortilla for breakfast and lunch sounds quick, easy, filling, easy to pack and nutritious. All benefits for breakfast and lunch. Click the photos for other choices.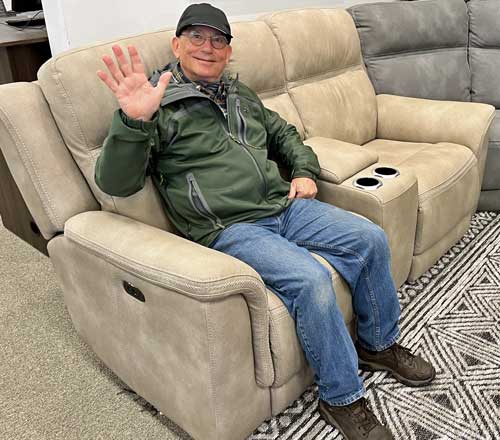 Tuesday, April 12, 2022: Today I knew my friend Glen was about to buy a new couch at the Ashley Furniture Store. Since I already planned a trip to Roseburg for other reasons I stopped by the Ashley store and posed on the couch he was planning to buy then sent him the photo. I thought it was a pretty good joke. I later learned this was his fabric choice but the actual unit did not have the console. I did try other units to learn if I could feel the difference in this high end model compared to cheaper models. Glen said he could feel the difference. He must have a more sensitive butt because I couldn't feel the difference. I could feel the difference in the thickness of the fabric.
After my errands in Roseburg, I completed a one hour Zwift workout with a group called "Good Life". It was a good workout except for the high cadence they required on several of the 27 segments. Click the photo to see the group.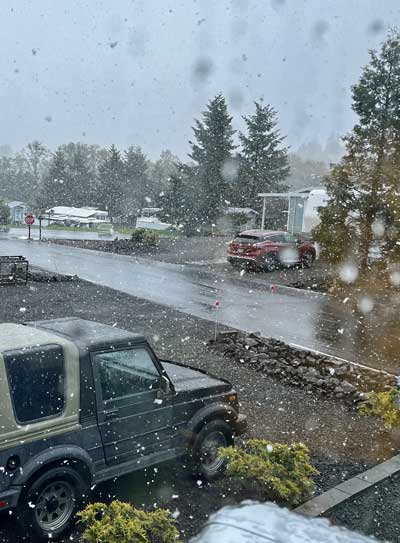 Monday, April 11, 2022: Snow is rare in Sutherlin. It is especially rare in April. But this morning it began to snow and by noon we had 3" of snow just before the clouds broke and the sun came out to make the snow disappear.
Here is a short video to see what we experienced.
Click this photo for another view.
The forecast for this week is for more rain and possible snow in the mornings.
Oregon is desperate for water so we will take it in whatever form it wishes to arrive.

Saturday, April 8, 2022: Gwen and I visited a tiny town to the north, Yoncalla. I spotted their announcement of the Spring Craft Fair. I like visiting small town craft fairs looking for project ideas and handmade food. There were a variety of booths filling the small community center. I did buy a loaf of banana nut with chocolate chips bread. I also bought a pair of hand knit slippers. Click the photo for a view of the slippers. The orange and black reminded me of the Oregon State Beavers.
Friday, April 8, 2022: We have some friends who are also our neighbors who walk their dogs while driving their golf cart around the park. They noticed the cargo box I installed onto our cart. They decided they wanted one too. I volunteered to install the cargo box for them. I calculated three hours for installation but it took much more time due to poor directions. This was a Club Car, not an EzGo like mine so a much different installation. The box is installed and the ladies are very happy. Click the photos for more views.
Thursday, April 7, 2022: The weather forecast for today called for temperatures of 82 degrees. We decided to do something special on this hottest day of the year to date. We began with brunch at one of our favorite restaurants, Lighthouse Center, a vegetarian restaurant. We were not disappointed. They have been closed for two years due to COVID19 and this was one of their first days open again. We took Tyee Road toward the coast. Tyee Road is a rural route which follows the Umpqua River. It is a slow, two lane road but very scenic. We became distracted about 7 miles down Tyee by a bridge crossing the Umpqua. We followed that road hoping to learn where it went but 8.5 miles down that road a tree blocked our path. We returned to Tyee Road but vowed to follow the mystery road in the future, maybe with a chainsaw next time. We arrived at our beachside destination about an hour later and let Abby run in/out of the waves and along the beach while we walked alongside. We failed to get fuel before our drive so we were forced to pay coast prices. Every time I fuel the Subaru I make a silent curse because this small four cylinder car never does better than 25 mpg. I read in the paper the new federal guideline for 2026 cars is 40 mpg minimum. I guess Subaru will have to stop making excuses for their poor fuel mileage or stop selling cars in the US. Click all photos for more views. The high temperature in Sutherlin today was 84.5°.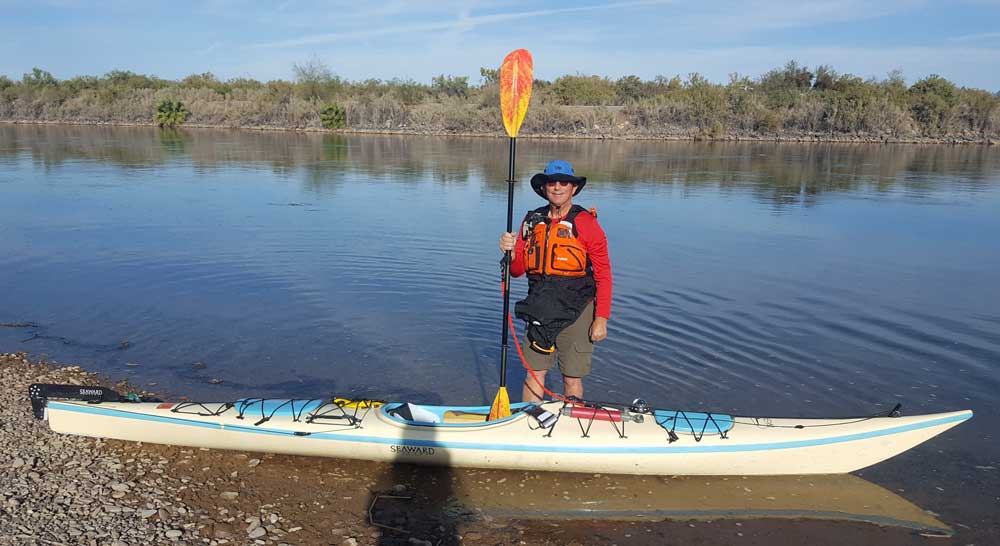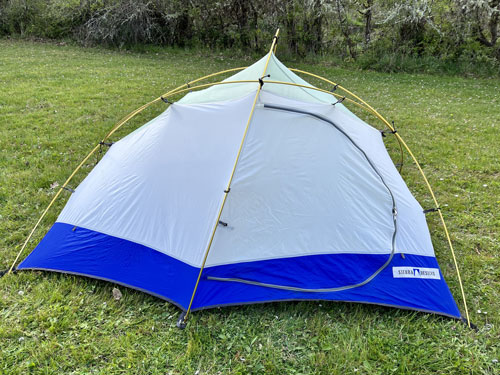 Sunday, April 3, 2022: After I added the piano hinge and lid support to the new table-storage-footrest, I decided to clean out the back storage container. I threw stuff away, reorganized, moved things around and the storage unit looks much better know. I found my two person tent I've owned for a long time and it needs to be sold. I listed it in Facebook Marketplace and will list in several more Facebook sales pages. I also decided to list my kayak which is currently located in Sparks, Nevada. Gwen and I will be in Sparks soon to take care of Joe's dog while he travels. Click both photos for more views.
Thursday, March 31, 2022: The cargo box arrived this afternoon and I was ready to install it. But first, I wanted to spray the bed with bed liner. The glossy finish had to be sanded before the spray would adhere. Once the bed was sprayed I could begin installing the frame while the bed liner dried. All the parts fit perfectly. The only step which needed to be modified was the hole in the bed of the cart. It was too small and had to be enlarged. Three hours later and the cargo box is completely installed. Click all photos for enlarged views.
Wednesday, March 30, 2022: The new seat covers have arrived for the golf cart. I chose seat covers because I noticed some tears in the Club Car seat cushion. I believe they existed before we owned it but couldn't be sure since Abby always rides in the cart anytime we go anywhere. I wanted to protect the EzGo seat. Once removed and laid upside down I noticed this 23 year old plywood at the bottom of the cushioned seat was looking weathered. I decided to protect it with paint. "Why blue" you say? Because that is the paint I had on hand. The hardware had to be removed from the seat for painting and for installing the seat cover. These are inexpensive covers and for the price I am really impressed with them. They went on easily and look really good. I believe Abby will like them too since she won't have to sit on a slick vinyl seat. I did not install the back cover yet. The cargo box is due to arrive tomorrow and the seat back will have to be removed to install the cargo box. I will put the cover on the seat back at that time. Click both photos for more views.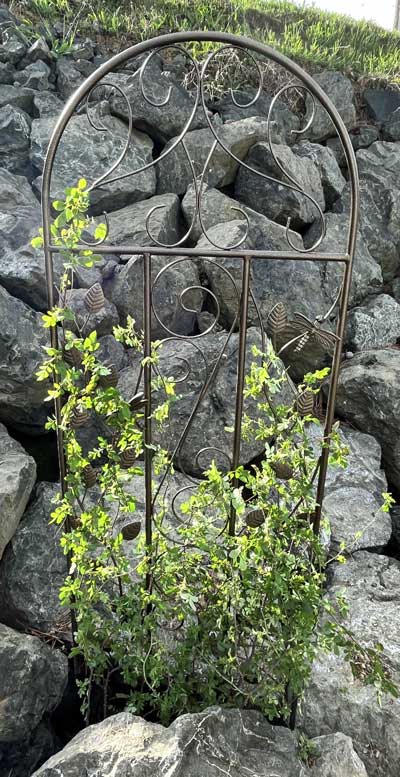 Tuesday, March 29, 2022: Long ago in September of 2020 this rock wall was built to keep the clay earth from sliding into the RV pads. I had expected all plant life would be destroyed by the making of the rock wall. I was wrong. We have a wild rose bush survive the excavation. It has grown back enough that I decided to get a trellis to provide an attractive place for the wild roses to grow. I expect this entire trellis will be covered by the end of the summer. I also expect the wild roses will brighten the rock wall.
Part of this day I made two Zwift rides. For the last month Zwift has featured the Tour of Watopia (TOW). It consists of five organized rides on one of the Watopia routes. Your reward for completing a ride is double the XP points toward the next level. Because of my travels I have completed only two of the TOW routes. I have three to make up. The make up week began today. I was able to do TOW 1 and 2, I have only number 3 left to do. I'll complete number 3 tomorrow. I'm sure there is some sort of reward for completing all five route I just don't know what that is. Click the photo to see the finish of route #1.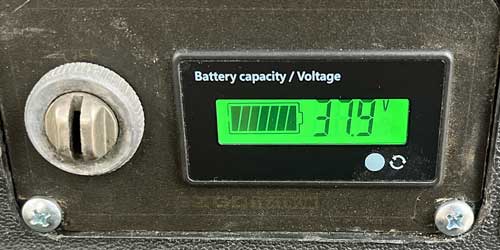 Monday, March 28, 2022: The Club Car is gone to Medford. I spent the rest of the afternoon installing the Ahooga horn I removed from the Club Car. This time I installed the horn button on the floor to make it easier to actuate.
Next I installed a digital voltage meter to know the condition of the batteries before and during a ride. This is a 36 volt golf cart so a reading of 37.9 volts is a full charge. I did get to use my repaired scrollsaw to make the cut out in this metal plate for the meter.
Click this photo to see a percentage of charge.
The GTW Cargo Box has been shipped but I don't expect it for a week.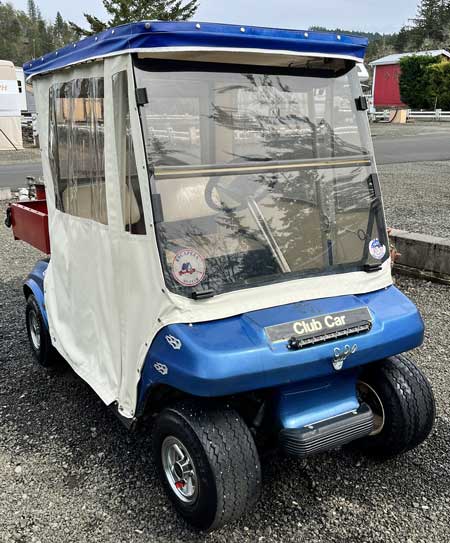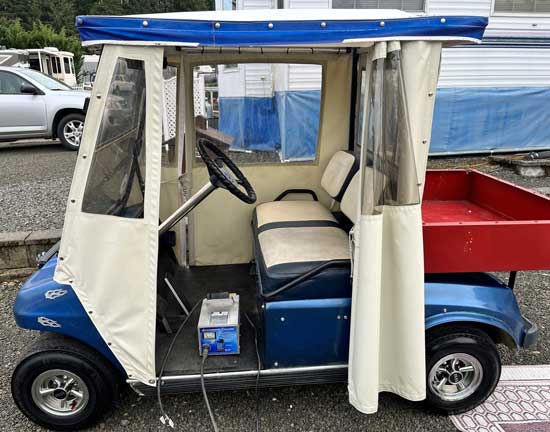 Sunday, March 27, 2022: The Club Car has been cleaned up and ready for sale. To that end, I created a "post card" announcement for our park. I decided not to wait for a park buyer to respond and listed the cart in Facebook Marketplace. Within five minutes I had a buyer. Another 20 minutes and I had two more buyers. I listed the cart as "pending" after seven buyers responded. I listed the cart at $1499, the amount I have invested in the cart. It is obvious to me, I should have listed it for more. I obviously do not have any idea the value of these golf carts. I bought the EzGo for $650 and have ordered a cargo box for $253. After the purchase, I did some internet research finding the exact same EzGo with only 5 serial digits different from the one I bought. It had no enclosure cover and no cargo box, the listing price is $5000. I found a second one, same year of manufacture, also $5000. I should have gotten the idea from that to list the Club Car at a higher price. Still ... glad to get my money back out of it. Click these photos to enlarge. I hoped back into the EzGo and drove to where I posted the Club Car for sale at the park and removed the sign.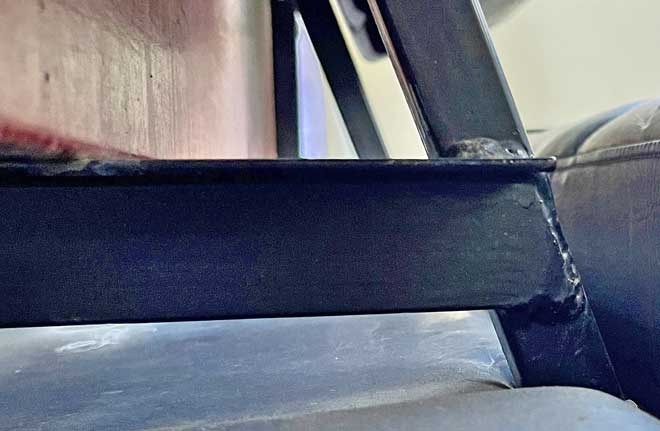 Saturday, March 26, 2022: The best plans without proper research aren't worth much. I discovered today that the cargo box support in the Club Car golf cart is welded to the roof support. I need that support for the EzGo. I could cut it off and possibly use it but I'm likely to make a mess of both golf carts. The better solution is to just break down and order a cargo box specifically made to fit an EzGo cart. So that's what I did today. With that decision, all I need to do is clean up the Club Car and begin advertising it here in the park.
Friday, March 25, 2022: In October, 2020 we bought our first golf cart. If you click the link you will see that I have done a lot of work with that "bargain" golf cart. I had to replace the batteries which doubled the price of the cart then we replaced the old side curtains which were falling apart so we have much invested in that cart. It is a slow going cart. I believe I can resell the cart with new batteries and new side walls for what we have invested in it. This EZGO cart is in better condition and moves twice as fast. It doesn't have the utility bed in the back but I will remove the bed from the previous cart and install on this cart. So I intend to remove the utility bed, repaint flat black then install on the EZGO. I will then clean up the Club Car and sell it. Click each photo to enlarge.
(Click all photos for another view)

Monday, March 7 to Tuesday March 22, 2022: This was a two week vacation to Reno, Nevada to visit my kids and grandkids. I chose a new airline in Eugene which has a direct flight to Reno, AHA Airline. They use small jets which hold about 50 passengers. My original flight was scheduled for Wednesday but was cancelled due to only a few passengers. I switched to two days earlier, Monday with only 15 passengers. My return flight from Reno was nearly full. I was able to spend time with my daughter, Mindy and her daughter, Elise for the first few days. Granddaughter, Lucy was in school. Elise is 4 and a non-stop talker. She likes to play games and tea parties so that's what we did. Then I joined, son Ben and his children, Chloe and Noah for a five night trip to Windsor, California where the kids like to swim in the pool. We also shopped in Healdsburg, Sebastapol and San Francisco. My sister, Dorana, joined us for a hike to the Golden Gate Bridge viewpoint and beach on the west side of the bridge. My last few days were with son, Joe and Ben for some adult fun. We did watch much of the March Madness NCAA Basketball games too. I left Reno in bright sunlight and landed in Eugene in the rain on the return trip. Click all photos for more views.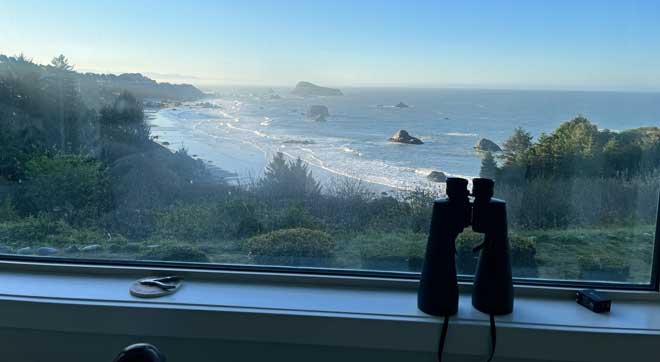 Saturday and Sunday, March 5,6, 2022: This was a weekend in Brookings, Oregon on the Oregon coast. We are there to visit and to make sure the Zwift bike is working properly. We visited a Brookings restaurant, played board games and went on a hike along the Oregon Coast Trail. Abby loved the off leash hike.
I worked on the bike much of Saturday afternoon. On Sunday morning I did a Zwift ride with son Ben to be sure everything was working properly. I had no mishaps during my Zwift ride. I will say, it doesn't shift perfectly because it is a 20 year old bike. But it has the best equipment which was available 20 years ago and it is working for me. Both Dave and Brook struggle a bit with it because they are new to cycling and are expecting perfection but they are not going to get perfection from this bike. Still, I think because I have a lot of cycling experience, the bike worked perfectly for me. I hope they have the patience to stick it out. This is the bike I would have purchased had it been for sale at the time I found my CoOp bike. The photo is out their livingroom window before dawn Sunday morning. Click the photo for my Zwift ride with Ben.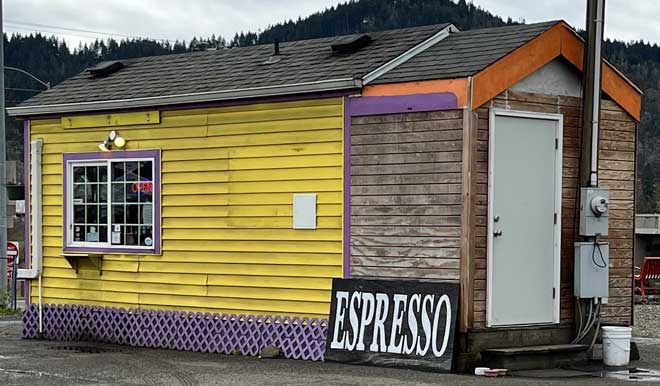 Tuesday, March 1, 2022: We lived in Grants Pass, Oregon until 2006. During the time we were there a coffee hut business began called Dutch Bros. It actually began as a coffee cart at the Community College where I was employed. Dutch Bros has grown into a billion dollar, multi-state business with hundreds of coffee huts. It has done that not because it has great tasting coffee but because of the marketing management and culture they build around this business. Several months ago they went public and I purchased stock which has done well. The photo shows Ruff Day Latte, here in Sutherlin, It began in 1996 and is located only 100 yards from a Dutch Bros hut. Even though Ruff Day Latte has been at this location considerably longer than Dutch Bros, the DB probably does 20x the business in a day (which is good for my stock). DB is slick and has a huge following! Ruff Day is still alone in this small hut. Even though I have stock in DB, when I want a drink, I go to Ruff Day Latte. I like the people who don't SHOUT at me (if you ever visit a DB, you'll understand why I said that). Also, Ruff Day is a family business and certainly an "under dog" to the giant DB and I want to help the under dog. Their drinks taste good to me too.

Monday, February 28, 2022: Ten years ago when we moved to the Timber Valley Escapee Park I searched for what I considered to be the best medical clinic in the area. I chose Evergreen Family Medicine located in a two store building about ten miles away in Roseburg. They have since expanded to a second larger building in Roseburg and a few months ago announced a 7 million dollar expansion to Sutherlin. It looks like they are ready to pour concrete. The building is to be completed by November of this year. I am looking forward to having my clinic much closer her in Sutherlin. Click this photo to enlarge.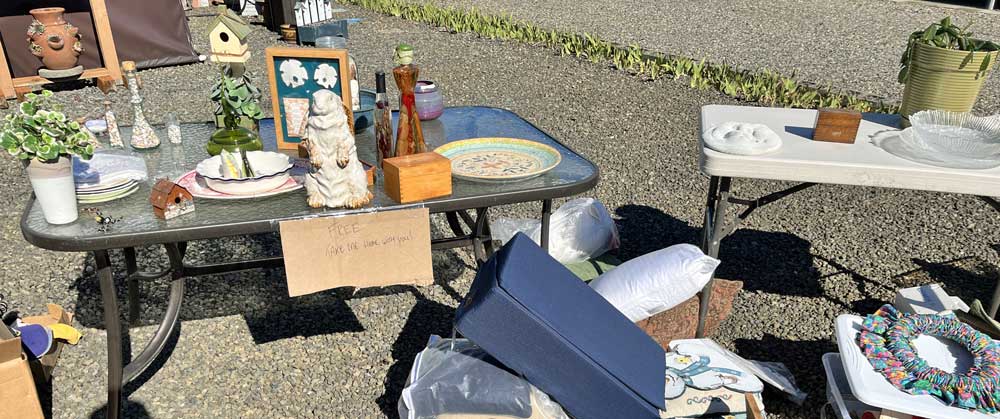 Saturday, February 26, 2022: One of the park residents is having a spontaneous yard sale before leaving the park. We found several "treasures" to use a gifts and one special treasure we intend to use. Click the photo to see the treasure we found for ourselves.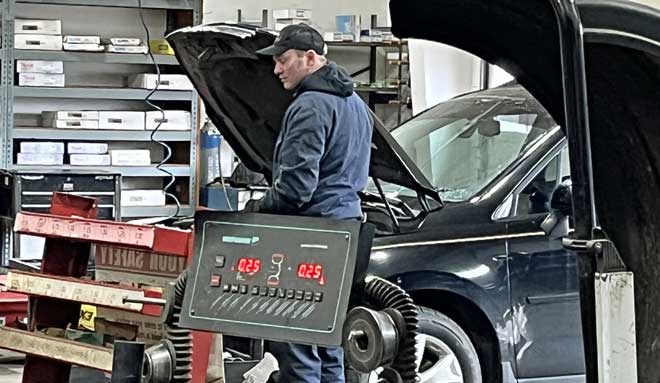 Friday, February 25, 2022: We have had more than one person tell us the Forester battery needed to be replaced. I took the car to the Les Schwab Tire retailer where we purchased the battery to get it replaced. They first informed me I would get a 50% discount if the battery failed their test. After the test I was informed that the battery was still good. They cleaned the battery terminals and posts and sent me on my way.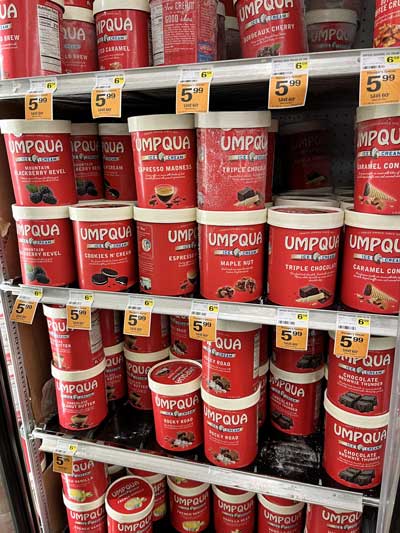 Wednesday, February 23, 2022: It got down to 19 degrees last night which froze our outside water lines even though they were insulated. I dealt with that problem until 2 pm when they finally thawed.
Gwen took the car with her lady friends to Eugene for a fun day of shopping while I stayed home with Abby. She was bored staying inside due to the cold weather. I still took her for a couple of golf cart rides and a run in the storage area.
I was planning to Zwift ride with friends this evening but by the time the ride was to start I had talked myself into cake and ice cream instead. I was actually in the grocery store when the ride began. I'll do a ride tomorrow.
We had a plastic shelf unit in our shed but it wasn't strong enough to hold the canned goods Gwen put on the shelves. I replaced the unit with a stronger one. I asked my neighbors and the park manager if they wanted it. All answered "no". So I took a photo and posted the photo with an announcement in our mailroom to get rid of it. Hopefully it will be gone tomorrow.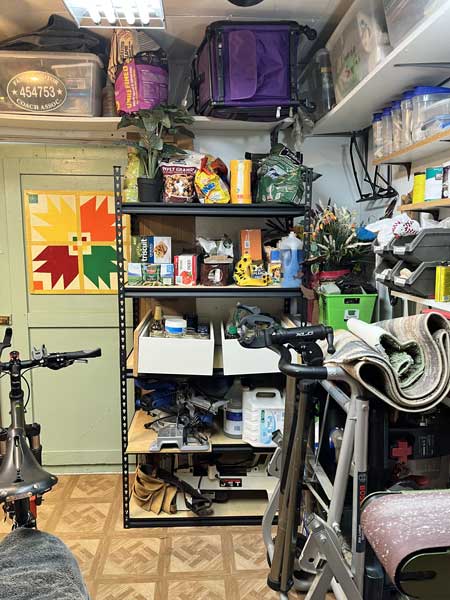 Sunday, February 20, 2022: My Sunday began with waffles. I use a box pancake mix with instructions, "just add water". Instead, I add two eggs and Almond milk, no water. Then I add hot Maple Syrup from a special brew purchased from Costco several months ago.
The rest of my day was working on the other half of the woodshop (shed). I cleaned enough to be able to take a load to the dumpster. The weather forecast was for rain all day but we got only scattered showers. I was able to move items out of the shed to have room to move around.
The middle of the afternoon was a short and easy Zwift ride. I call it a recovery ride. I must save energy for a very long ride on Tuesday. The forecast for this next week is back to winter weather with cold (for western Oregon) temperatures with highs near freezing.
Click the photograph for a panorama of the woodshop area of the shed.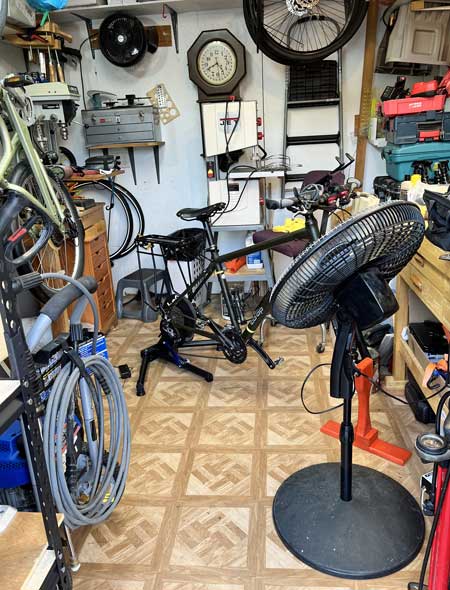 Saturday, February 19, 2022: My day began with a 37 km Zwift ride with friends, Glen, Erik, Stan and Paul. This was a new route for each of us so we all got badges and points toward the next level. I'm currently at level 25 while my buddies are about 5 levels above me but I'm slowly catching up.
The rest of my day was continuing to work or reorganizing the shed. This shed measures only 10 feet x 12 feet and I have been using it as a woodworking shop. Gwen has taken over a corner as a pantry which has forced me to rethink all the storage. I must also use the shop as my location for Zwift riding so you see my Zwift bike on my Wahoo Smart Trainer in the center of the room. Gwen's bike is hanging from the ceiling. With the reorganization, I can clear the room in about 7 minutes when it is not raining for my woodworking projects. I have a little more work to do to make the room ideal for my woodworking. Also I didn't deal with ANY of the upper storage in this room and it wouldn't hurt to remove all and discard stuff not needed then reorganize what is left.
Click the photo for a panorama of half the interior, perhaps the other half tomorrow.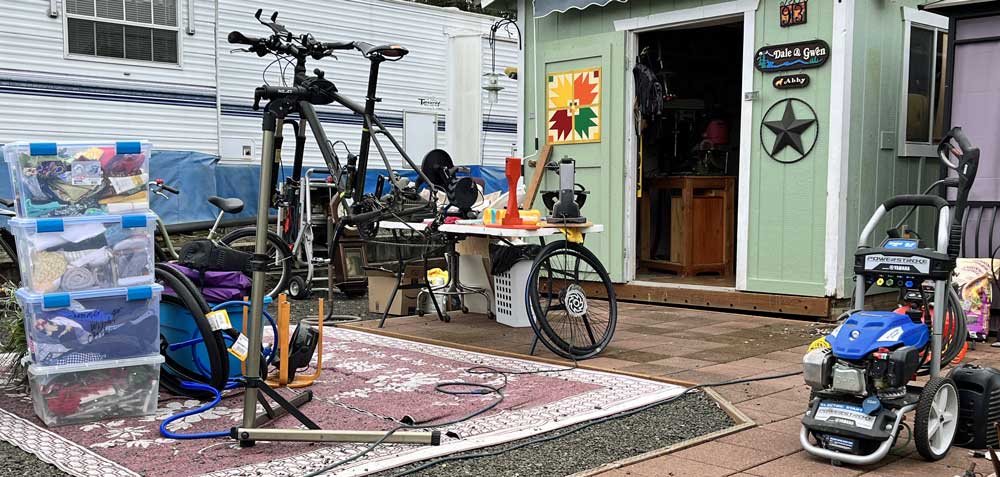 Friday, February 18, 2022: This day was devoted to reorganizing the shed. Gwen came up with a good idea but it required moving everything in the back to the front and visa versa. That is taking more than a day because I didn't finish today. I did get it ready for an early Zwift ride tomorrow but after the ride I need to finish the organization. It already looks and feels better.
Thursday, February 17, 2022: It has been ages since I have had to change a tire. My last tire changes were on a fifth wheel trailer. It has been even MORE ages since making a change on a car. We discovered this flat in our driveway and Gwen quickly found the cause, a screw in the new tire. Click the left photo for a view of the cause.
After installing the spare, we drove 8 miles to Costco and dropped off the tire then took ourselves to a new-to-us restaurant for a late lunch. We have been wanting to try Wrappin & Rollin, a Whole Foods, Plant-Based menu only.
The food actually comes from a food truck parked in the alley behind the restaurant, hence the wheels on the sign. The food was excellent and we both agreed we would be back another time. Click the right photo to see my dish of fried tofu, vegetables, taste sauce over rice.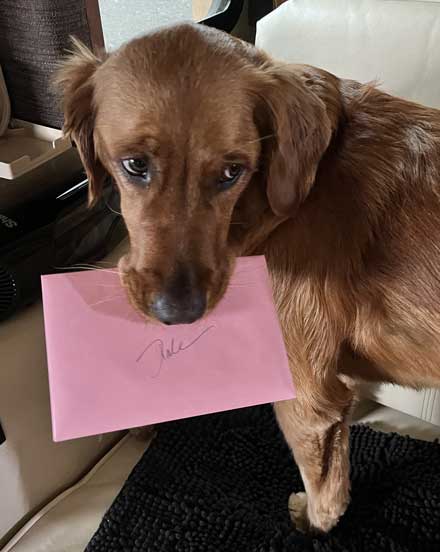 Monday, February 14, 2022: This was a busy Valentines Day. Abby loves this day. She had a card for each of us. We rewarded Abby by taking her to Roseburg as we first had breakfast then to Sherms Grocery store. Sherms was missing a few items so off to Albertson's next.
Gwen has a woodworking project for me so we visited Lowes for lumber next.
Our last store was Costco where Gwen got a prescription and I found a few items on sale.
Abby got some new toys too.
Happy Valentines Day everyone.
Sunday, February 13, 2022: This is Super Bowl LVI Sunday. I began this day with a 43 km Zwift ride with son Ben. That took 1.5 hours.
Next, I took Abby for a mile walk around the park.
Then it was time for a very close game with all commentators siding with the Rams except one.
As it turned out, the Rams secured a win with less than a minute left to play.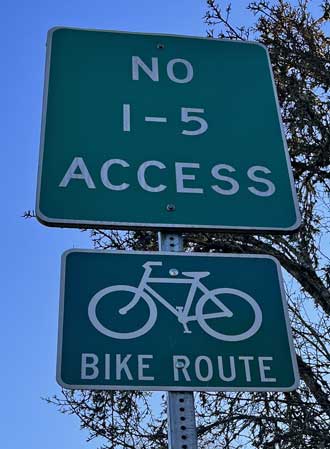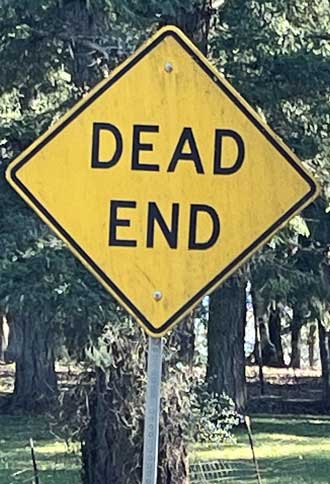 Friday, February 11, 2022: Abby and I drove for fresh bread to the Lighthouse Bakery and Cafe which just opened following closing during the Covid pandemic. Unfortunately they had sold out of every loaf of bread so we settled for a slice of carrot cake, yummy. The bakery is one of the most popular restaurants even though it is located six miles west of Sutherlin in the tiny village of Umpqua. We brought the carrot cake home to Gwen.
Since we were out and about, we drove north the Rice Valley looking for some potential bike rides on roads we have never ridden before. We drove Rice Valley Road from the I-5 exit to Yoncalla the town furthest to the north I have ridden previously. Rice Valley Road had about 1.5 miles of gravel but the rest was paved. Once in Yoncalla Abby talked me into stopping at the Main Street Espresso where we each got a treat.
We explored a few roads around Yoncalla but only found our way back to I-5. We drove south back to the Rice Valley exit attracted by the "Bike Route" sign we saw going south on the Rice Valley Road. The Google maps showed all roads to the south to be dead end so wondering what the sign meant by "Bike Route". We drove all the roads to the south and only found Dead End so we have no idea what is meant by "Bike Route". We got back onto I-5 and learned the Metz Hill exit was only 4 miles. This route, then, could be ridden by bicycle if you don't mind 1.5 miles of gravel and 4 miles on I-5. I watched the shoulder of I-5 on this route and there is at least 8 feet of shoulder on the outside of the rumble strip so the disadvantage is the noise of the traffic speeding by the cyclist at 70+ MPH.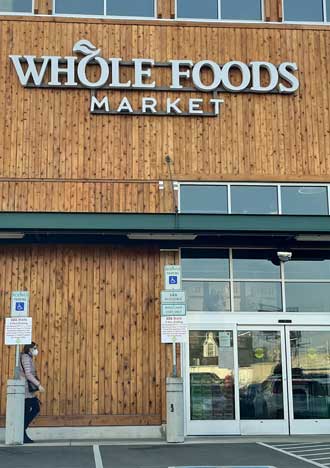 Tuesday, February 8, 2022: Gwen, Abby and I head to the big city today, Eugene. Gwen's goal was to visit two stores, Hobby Lobby and Trader Joe's. We ended up visiting many more stores. I missed the photo of Hobby Lobby but got the photo of all the other stores we visited.
Eugene is a different experience for us compared to Roseburg. Much busier, more traffic, lots more people and lots more choices of stores and products.
This was also our day to celebrate Valentine's Day knowing the actual day will be very busy in the restaurants. We took ourselves to BJs knowing it would have a comfortable surrounding and good food. We treated ourselves well.
This was our first time at the Creswell Bakery. It has a very good reputation and after our visit, I believe the reputation is worth the high marks.
It was also our first time in the Eugene Duluth store, Trader Joe's and Whole Foods. We have visited those stores in other cities so it was fun to compare what we have seen before.
Click all the photos for more views.
Saturday, February 5, 2022: My day began early with a long Zwift ride with sons Ben and Joe, and friends Glen, Erik and Jami. The ride gave us 1 hour plus 45 minutes on a stationery smart trainer. This was a risky ride since tomorrow we have scheduled a longer ride on the road. I don't want to be exhausted from today's trainer ride.
After an Abby walk Gwen and I drove to the Roseburg Costco for new tires. When you are retired, little things like new tires can be the excitement of the week. Well, at least the excitement of the day. We are replacing the Michelin tires with maximum tread B.F. Goodrich tires. The new tires feel great, smooth with good traction. Click the photos for more views.
Friday, February 4, 2022: We started our day with a replay of the Winter Olympics Opening Ceremony. It was not as spectacular as the previous Beijing Olympics but still impressive. The broadcast was full of propaganda on both sides! Curling was the first event available for broadcast, at least to the channels we receive. When we visited Canada three years ago every town, no matter how small, seemed to have a curling venue. After curling came the women's snow board slopestyle qualification event. I have done a lot of alpine skiing but never snow boarding. It looked to be a difficult sport and exciting. Click on all three photos for more views.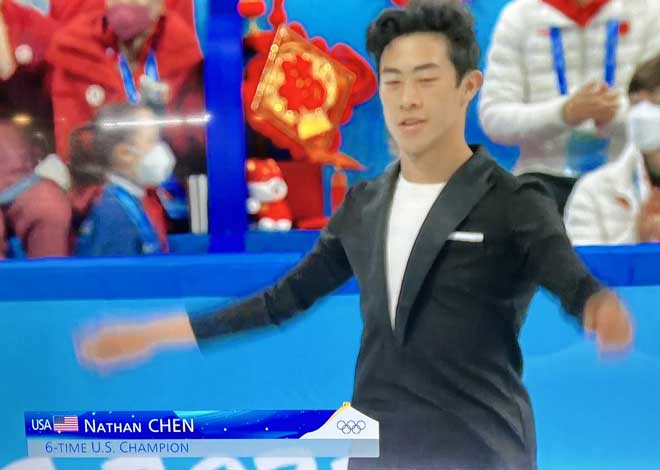 Thursday, February 3, 2022: The winter Olympics has arrived in China. The opening ceremony is at 3 am tomorrow morning so I will watch the replay.
Tonight we got to see the men's downhill trial runs, men's and ladies mogul qualification and the team figure skating plus ice dancing.
My favorite sport will be the cross country race or Nordic Skating. I lived at Lake Tahoe, California for 13 years and during that time learned to Nordic Skate (cross country). It was a sport I loved for my winter sport. It is a whole body exercise and great preparation for summer cycling. The Nordic Center was only 5 minutes from my Tahoe home. I would drop my son off at the high school then drive around the corner to the Nordic Center for an hour of skiing the Nordic Skate technique. Click this photo for a view of the entire USA skating team.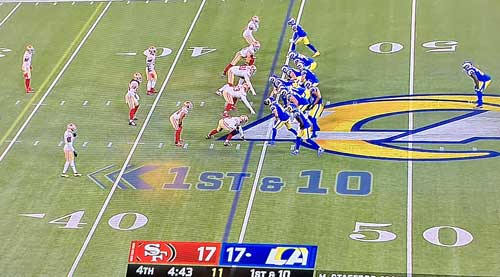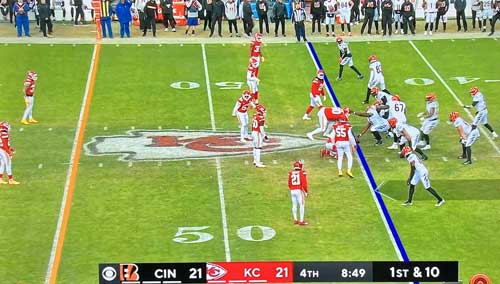 Sunday, January 30, 2022: After two close games, the Rams and Bengals are going to the Super Bowl in two weeks.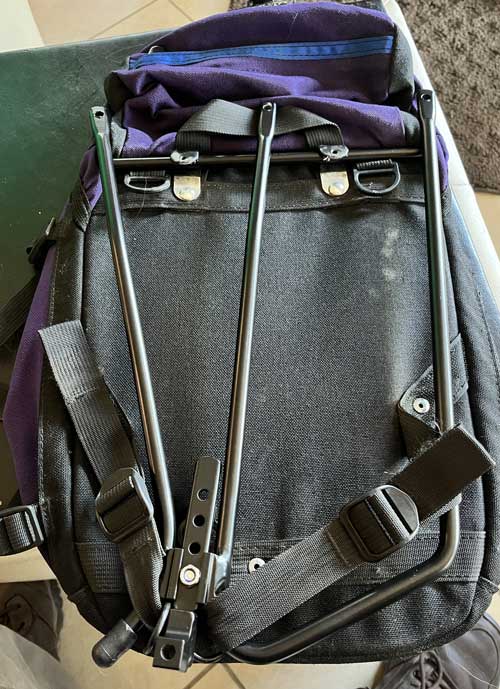 Friday, January 28, 2022: After breakfast, I worked on putting my bike back together. This included finishing the mud clean-up and replacing the chain due to chain stretch. I also made sure all my electronic accessories were charged, the K2 computer, Varia rear flashing tail light and radar, flashing forward light and main motor battery. The new Gatorskin tires look great. Next, Abby and I took the garbage to the bin using the golf cart. Then we toured the park in the golf cart because Abby likes to do that. After lunch I took Abby for a walk around the park which ends up being about 1.5 miles.
Finally, I unboxed the new bicycle rack I bought to learn if it would fit my panniers. The rack I currently own would not fit the panniers. It is important that the bottom straps have something to lock to so the bag does not bounce off the upper rail. This new rack seems built well and was inexpensive on Amazon. The bags lock perfectly to the rack so I assembled the rack ready for an overnight trip. Our first trip is planned in May but who knows what might happen before then. Click this photo to see the tie-down straps at the bottom.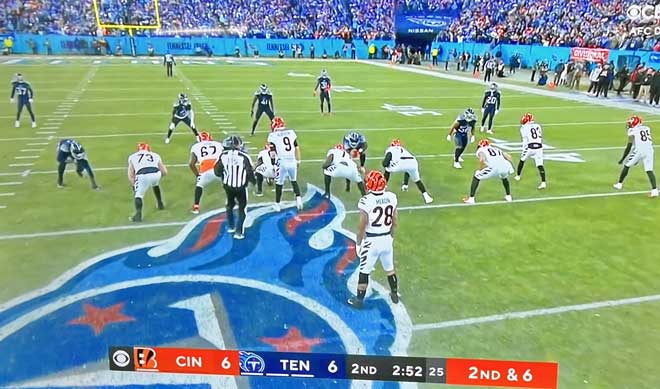 Saturday, January 22, 2022: The Bengals pulled off a last minute win over the Titans today surprising Titan fans.
I don't have a photo for the 49er and Packers game because we don't get a Fox channel. We listened on the radio. The 49ers won in the last 4 seconds of the game in Green Bay shocking Packer fans. So the underdog in both games go to the conference playoffs.
Five riders completed the grueling route my son Ben chose today for a Zwift ride. Ben, Glen, Brook, Jami and me. It was about 40 minutes of climbing straight up for a total ride of 1 hour plus 42 minutes yet everyone enjoyed the ride and some even said they would do it a second time (not me).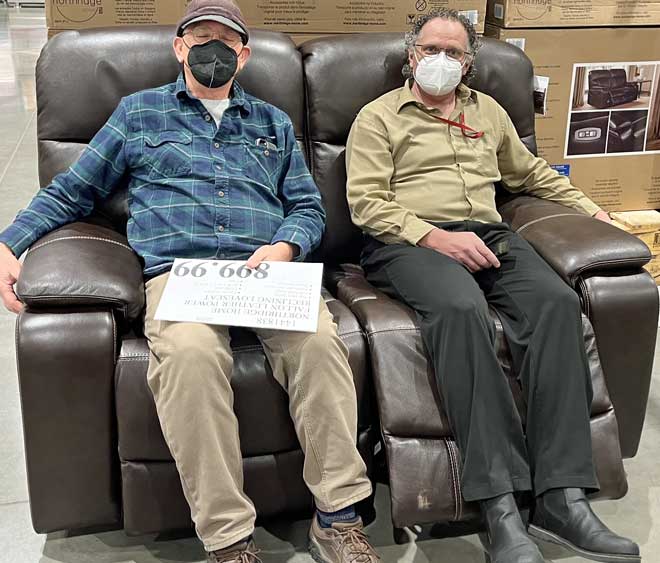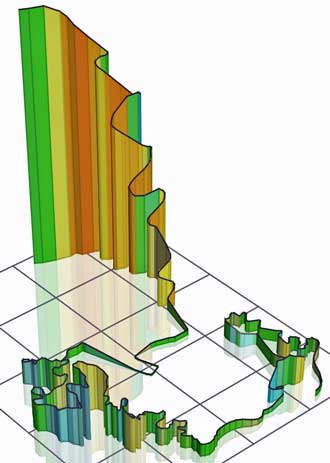 Friday, January 21, 2022: On the left Glen and I are goofing off at Costco by testing some motorized entertainment seating. I was kidding Glen by telling him he must sell one of his bicycles to be able to buy one of these motorized love seats.
On the right is a 3d graphic of the Zwift ride I am doing tomorrow morning. My son Ben has created a meetup on a route called "Climber's Gambit", one of the toughest routes due to the steep climbing at the end of the route. The route begins at the bottom right with gently rolling hills and valleys for the first 2/3 of the route then the real climbing begins for a total of 2,200 feet of climbing. The graph makes it look like the route goes straight up. Total length of the ride is 28 kilometers. Beside Ben and I doing the ride, son Joe, Brook, Glen and Jami are also joining us. This could be an exhausting ride.
Thursday, January 20, 2022: A different kind of exercise today. I have had a membership to AnyTime Fitness for about ten years but used it very little. It is one of those Medicare benefits (it doesn't cost Medicare unless you use it). I contacted Jeff, the trainer at AnyTime Fitness and asked for a plan to help me build strength and endurance for cycling. Jeff lined out about 12 different exercises and machines. He showed me each step. Then told me to do the whole set a second time. There is no where to go but up. I sure hope these exercises work to help my cycling. Of course after the workout I had to go to Costco for a few supplies and chose to reward myself with a strawberry sundae. Later, I did a short Zwift ride with son Joe and Brook.
Monday, January 17, 2022: I did two last rides on Brook's bike and Kickr to be sure everything was working properly. Then we had a final lunch with both Dave and Brook before returning to Sutherlin.
On our route home we stopped in Bandon to get fish and chips and clam chowder at our favorite fish house in Bandon. It was in the low fifties and not windy or raining so this street musician was entertaining in the parking lot.
We got home just in time to see the Arizona Cardinals get whipped by the L.A. Rams in a Wildcard Playoff game. The Rams will play Tom Brady and the Buccaneers next weekend.
Sunday, January 16, 2022: This was a long drive day, four hours, from Sutherlin to Brookings to help Brook and Dave set up the new bike on the Kickr. The shifting was not working correctly and the rides were not recording correctly to Strava. The photo to the left shows the setup in front of the TV used to AirPlay the Zwift image. The above photo shows the view seen out their activity room window.
When I left, the bike and Kickr were working well and Brook knew how to use Zwift. We confirmed that Brooks rides were publishing to Strava correctly too.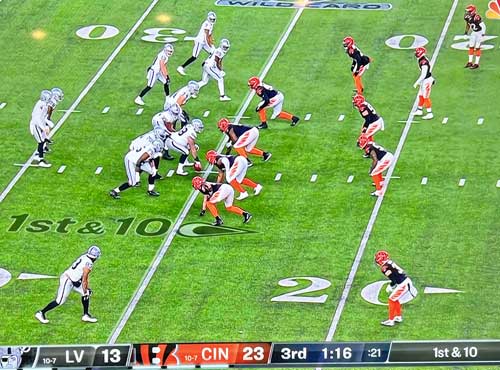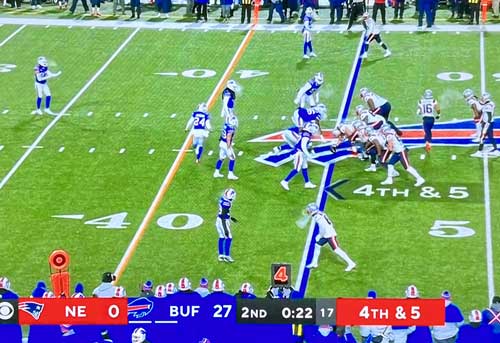 Saturday, January 15, 2022: Two NFL playoff games today after a morning Zwift Meetup setup by son Joe. The Bengals squeezed out a win over the Raiders who made many mistakes. The Bills ran all over the Patriots on a very cold -5 degree windchill field in Buffalo.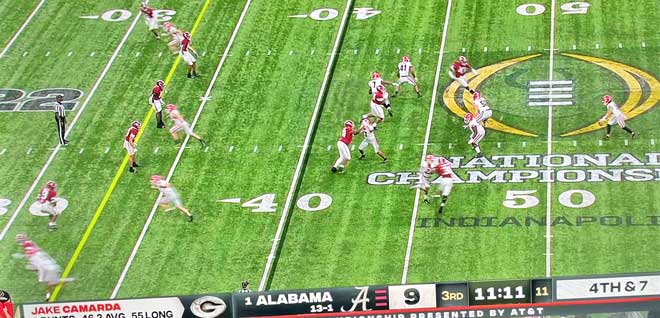 Monday, January 10, 2022: Two sports activities today. First was my Stage 1 ride with the TdZ, Tour de Zwift. The TdZ is an 8 stage event with rewards for completing the event. There were more than 3,000 riders in my stage which went for 53 minutes and 18 miles.
The National Football Championship between Georgia and Alabama was the second sport event. Both teams easily earned their way into this championship. I'll remind you, not one single Pac12 team won their bowl game.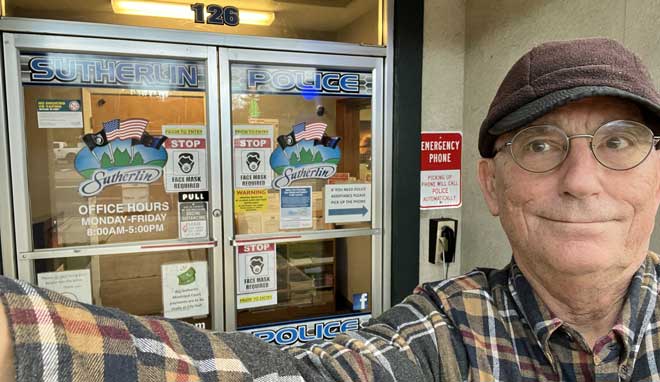 Friday, January 7, 2022: This story has taken three months to develop. We decided in October to stay in Sutherlin for the winter rather than drive to Arizona, our usual winter destination. I called Desert Gold RV Park in Brenda, Arizona and cancelled our January reservation. They assured me the owner would mail a refund check within a week. I waited nearly to the end of November but never saw a check so I called again. This time I was assured the check was in the mail. This was the time we took off for a month to drive the Oregon Coast so we did not see our mail again until the end of December. After checking our stack of mail, still no refund check so I called again. This time I was told that the check had been mailed and was cashed on December 23 while we were not home. How can someone cash a check made out to "Dale Prohaska"? Desert Gold sent me a copy of the face of the check and a bank transaction number showing it had been cashed but they did not send the back of the check. The first clue was that the check had been addressed incorrectly. A single digit had been left out of the street address. I used Google maps to search for the address on the check and the address did not exist. So if the post office gets a letter addressed to a non-existing number what is their protocol? Right, "Return to Sender". The postmaster in Sutherlin could not confirm what happened to the envelope since it was not registered. We needed to see the back of the check. The bank took until today to email the copy of the check-back to Desert Gold and to me. The back clearly says, "Pay to the order of Jessica Harms" then my name as if a signature, then a scribble which must say Jessica Harms signature followed by "Wells Fargo Mobile Deposit" (all hand written). I called our office to ask the park if they knew a "Jessica Harms" which they did not. So it was no one in our park. Now it was time to go file a police report. I talked with Sergeant Jochum of the Sutherlin police department who made very detailed notes of everything I had to say. I had made copies of everything for Sergeant Jochum. There are two big questions remaining which none of us know the answer currently. Which branch of Wells Fargo Bank cashed this check? Desert Gold's Bank will have that answer. I suggested the check had been returned to Arizona so the likely perpetrator was in Arizona but we really won't know that until we learn if the Wells Fargo branch was in Arizona or Oregon. If in a totally different state, we still won't know where the envelop was mishandled. Second, how did Jessica get her hands on an envelop addressed to me? When I stated that someone else might be involved because you would have to be pretty stupid to use your own name in such a fraud, Sergeant Jochum suggested they could have a false ID which means Wells Fargo must have accepted this false ID to set up an account. Desert Gold has promised to send another refund check, this time to the correct address. If that happens, it won't be my problem any longer but still a mystery to solve.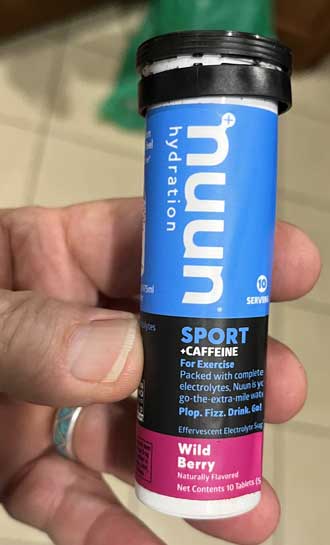 Tuesday, January 4, 2021: I woke up this morning with a bad cramp in my left calf muscle. I had decided days ago to give up coffee because I don't want the caffeine or the creamer any longer.
My first thought was the electrolyte tablets I had for my bicycling drinks. I heated up some water and dropped in a tablet. After it dissolved I began to drink then read the label. This drink contains CAFFEINE, Damn. I finished it anyway.
Brook has her bike now. It is ready for the road (but it is raining). It is also ready for the Wahoo Kickr she has purchased. Click here to see her bike and her story.
Saturday, January 1, 2022: This New Years Day started out healthy with a two hour Zwift ride with Glen and Paul. It was a total of 34.2 miles toward the 200 mile January St. Jude Challenge Ride. It won't take long to reach that 200 mile challenge. The nice thing about Zwift is had I ridden IRL (In Real Life), 34 miles would have taken me almost exactly 2 hours also.
Brooks bike is ready for delivery tomorrow. We will meet Brook in Grants Pass to deliver the bike. I cleaned the drive train, added a new chain, added new pedals, added a quick release seat post clamp, and checked the shifting. This will be a perfect bike for her new Wahoo Kickr. Click the photo for another view.
The Utah University Utes were our last hope for a Pac12 bowl win. They did really well in the first half, but Ohio found the Utes weakness in the second half and won the Rose Bowl Game in the last minute with a field goal winning by 3 points. Unfortunately that means not a single Pac12 team won their bowl game this year. Click the photo for a view of the Rose Bowl Stadium.
Tuesday, December 28, 2021: I woke to more snow, enough to nearly fill our tracks. Abby and I drove out to the back 40 so she could run in the field. We had fun with Abby's second time to play in snow. Click these photos for more views.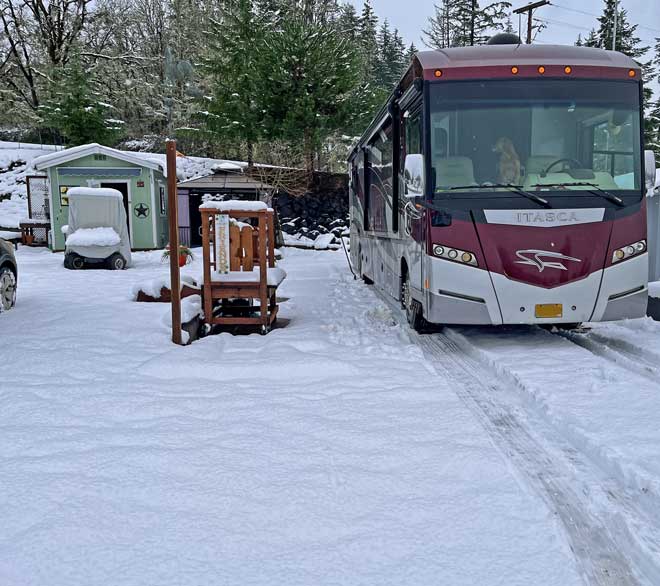 Monday, December 27, 2021: Our drive from Brookings to Sutherlin today was stormy the whole way. Rain, snow and occasional sunshine the entire drive. We were on the road at 10:40 and I estimated arrival at 2:30. The actual arrival time was 3:15. Considering the conditions, I was pleased. I was lucky in backing into our space. See the shovel handle back by the rear wheels? That marks the edge of the patio. It was what I aimed for. The rear view video was no help since the road grime had blocked it long ago. I was lucky that my first shot got me close to what I wanted. I decided to move the front wheels about 6" to the left but could only spin the rear wheels. "This is good enough" I thought to myself. Since we hadn't stopped for lunch, trying to beat the next storm, we took ourselves to a favorite restaurant with the idea to set up afterward. It is currently snowing again as I type this. Here is a short video showing our arrival and Abby's excitement with the snow.
Sunday, December 26, 2021: Tomorrow is our scheduled travel day back to Sutherlin. The last couple of days Sutherlin and the rest of the valley has received 6 - 12" of snow threatening our return. I know the coast roads will be passable and I'm hoping the valley roads will be too.
At the right is the forecast for tomorrow. See that dip in precipitation during the day tomorrow. I hope that means a safe trip home. I think the roads will be passable but not sure if I can get into our lot with a foot of snow covering it. Let's see how far we get tomorrow.
Christmas day, Saturday, December 25, 2021: These are the photos I took on Christmas day as the sun sinks into the Pacific.
This follows a day with Brook and Dave and a wonderful meal they provided. The weather is still pretty stormy which makes for some great photos.
Click the photos for expanded views.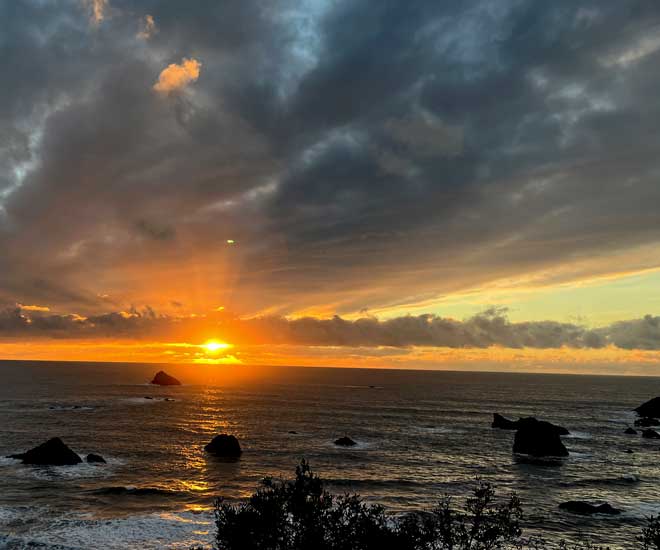 Thursday, December 23, 2021: We finally had a break in the clouds long enough for Gwen's son, Dave, to take this photo of the sun setting into the Pacific Ocean.
Our day began with buckwheat pancakes at Matties Pancake House. When breakfast was done, we looked for a water dish at the pet store. We didn't find a water dish but did find a new rug for Abby to wipe her feet when entering the motorhome.
Next came BiMart for some windshield was solution. I dropped Abby and Gwen off and drove to Dave and Brooks to ride Zwift.
We ended the day with dinner at Dave and Brooks.
Wednesday, December 22, 2021: Several weeks ago we visited the Silverton Christmas Market advertised well at a wonderful light show. It was very expensive, $15 per person plus $10 for parking. Last night we visited the Azalea Park Light Show in Brookings. The fee was $3 per person. The Silverton organizers could sure take a lesson from the organizers in Brookings. The light show in Azalea Park was far superior to the Christmas Market. We attended with Dave and Brook walking the lighted path through the exhibit. This video will give you the best idea of what the light show was like. Click on the above photos for more views.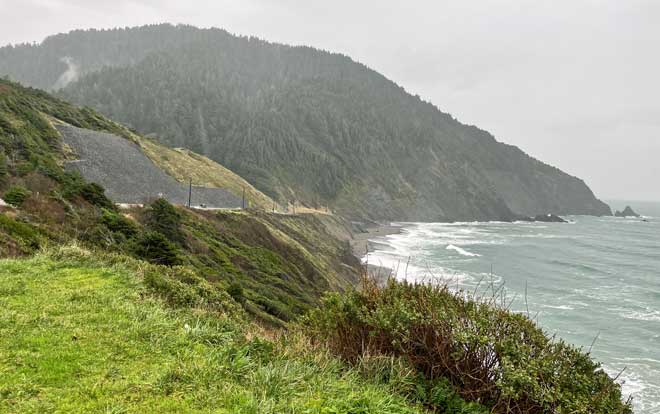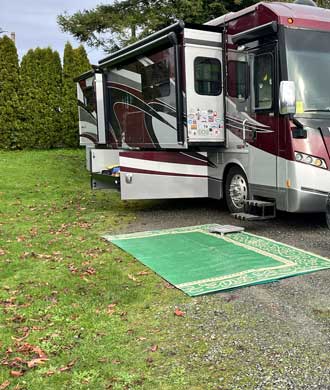 Monday, December 20, 2021: This was a travel day from Bandon to Brookings, Oregon. We passed stormy Humbug Mountain just south of Port Orford. The path around this mountain on US 101 is slow, narrow and tricky. Years ago, Gwen and I climbed to the top of this mountain. We parked at our destination, the Brookings Elks Lodge RV Park. Click Humbug Mountain to enlarge the view. Click our parking location to see our view.
Sunday, December 19, 2021: Abby and I took a drive to find some good photos during a storm today. We drove to the Face Rock Wayside, photo on the left. Can you see the side view of the face? Then to the mouth of the Coquille River to watch the waves come up river. I'd hate to be a boat trying to get onto the ocean today. I made a video of the wave and scenery to give you an idea of this day on the coast.
Thursday, December 16, 2021: Traveling today from Florence to Bandon, Oregon along Hiway 101. We are parked at the Bullards Beach State Park with 50 amp service plus water, all full hookup sites are closed during the winter. We have site C50 which I believe is the best winter site, very large, private and in a corner. Once we arrived we headed to our favorite fish and chip place on the Oregon Coast, Bandon Fish Market. Look at our lunchtime view by clicking on the counter view. After lunch we got propane then drove to the Bandon Lighthouse. Click our parked location photo for a scenic view of the lighthouse taken with my new iPhone Mini.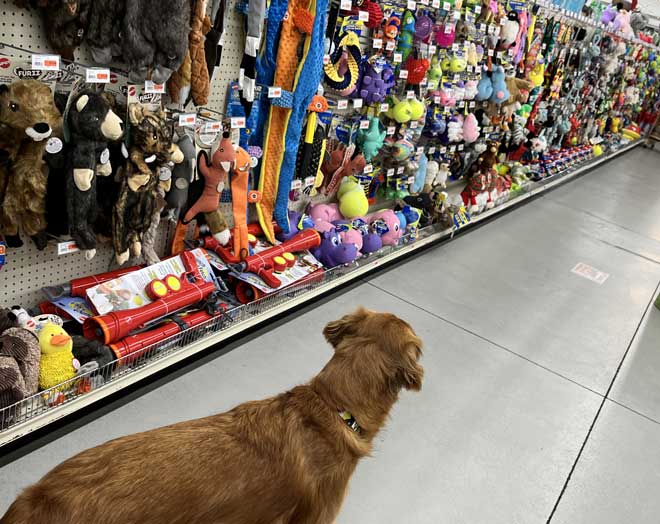 Wednesday, December 15, 2021: Abby and I drove into Florence today. First to get her some more dog food so we visited Pet Mart. We were fortunate that they had her brand. While there, Abby got to walk the isles with the toys. Of course she would like most any toy, especially the stuffed ones she could tear apart. I did buy her a strange new bone which unthreads to attach treats in the center. There are knobs and brushes Abby must chew to get at the treats so helping to clean her teeth.
After Pet Mart, we visited BiMart then the bottle recycle. Our final store was Fred Meyer before returning home. We picked up a puzzle for Gwen and board game, both 30% off.
This afternoon was our last day with Gary and Jeanne so we went to a favorite restaurant in old town Florence. Click the photo for a panorama of our restaurant.
We are traveling tomorrow to Bullards Beach State Park in Bandon, Oregon.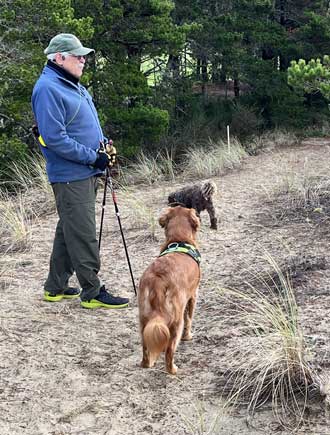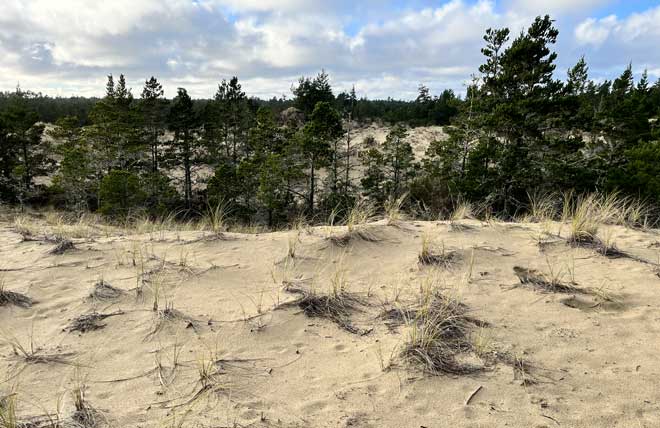 Tuesday, December 14, 2021: While Jeanne and Gwen visited a quilt shop Gary, his dog Hershey, Abby and I took a hike on the dunes near Gary and Jeanne's Florence home. It was a great place for the dogs to run. This part of the dunes is very popular with the nearby residents so the trails were clear and easy to follow. We walked nearly 3 miles round trip.
Monday, December 13, 2021: This was a short travel day from Tillicum Beach Campground to the Florence Elks RV Park just north of the city of Florence, Oregon. Less than an hour driving time but very stormy driving.
The Elks park in Florence is arranged nicely with landscape between every site and sites are very large. They have 50 amp electrical service and water at every site plus two dump stations.
Once we settled in, we contacted friends, Gary and Jeanne then chose to eat Chinese food together. I was able to get the football game using my iPhone as a hotspot.
Sunday, December 12, 2021: Today we had rain all day with an occasional break. During one of those breaks, we took Abby for a walk/run on the beach. Abby got her drawer #12 which was a poorly made dog toy. Abby had it in pieces within 2 minutes but she was excited to get it and I was excited to give it. Once our beach walk was completed I took Abby for a drive into Yachats where we shared an ice cream cone. We also found a nice gift shop where we bought a couple of items for Gwen.
During one of our sun breaks today, Abby and I walked directly across the street to the Angell Job Corp Center. I was offered a job at this center years ago, it was a strange story. The Job Corp trains youth ages 16 - 24 into a specific occupation. These youth are usually school dropouts but motivated to find a good career. It is a residential program where students live on campus and gain job skills and credentials following a strict curriculum. In January of 1997 I completed an application for a technology instructor position at the center. I heard nothing from the application until one day in September I got a Friday call wanting me to come to work on the following Monday. Since so much time had gone by, I had no idea who they were or what the position was. Once they explained I was tempted because I really like this area but I had already made other career choices and could not just drop everything at a moments notice. Now I'm thinking I was probably the 20th applicant they had called and the 20th person to say "No". I would have been good at this job after my experience of three years with high school dropouts for a special program in Grants Pass, Oregon. Have you seen the movie, "Sliding Doors" with Gwyneth Paltrow? Like that movie, I often think what life for me might have been like had I made different choices.
Saturday, December 11, 2021: We have had a loud night with a good storm on the ocean. The weather man says a 48 mph wind. My weather station is in a location protected from the wind so I only recorded 23 mph. My station did measure more than two inches of rain.
We watched the storm all day and since we are without a strong enough signal to have TV, and virtually no Internet access, we are reduced to playing card games. It is always trauma for me since I don't have a chance against the card master, Gwen.
Abby was also struggling. She didn't understand why we couldn't go out into the storm for a walk or to play on the beach. She would sit at the door with her head turned toward me as if to ask, "Can we go out now?" About that time we would get a blast of wind and rain.
Click both photos for more views.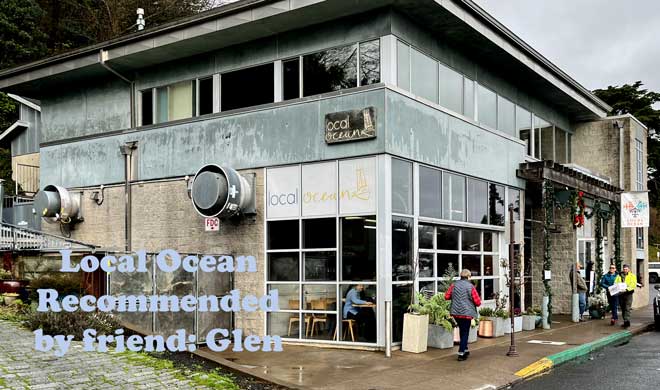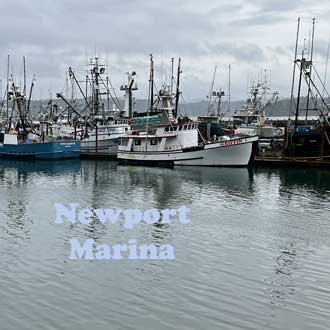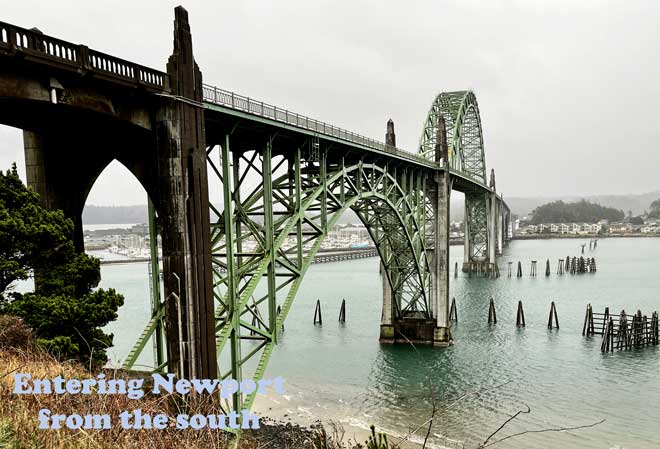 Friday, December 10, 2021: Gwen, Abby and I took a stormy drive north to Newport for sightseeing. Newport is one of the larger cities on the Oregon Coast. The photo to the left shows the Yaquina Bay Newport Bridge which we crossed to enter Newport. It is one of the tallest of the many coast bridges. When you look at the fishing boats in the marina you will understand why it must be so tall.
At my friend Glen's suggestion we ended up at the "Local Ocean" restaurant located just across from the historic Newport Marina. I had a tuna kabob while Gwen had a fish wrap. This restaurant has a policy I have not experienced before. They added a 20% fee to the check to distribute evenly among the staff. An additional gratuity was encouraged beyond the 20%. With so many refusing to work after our government has been giving out free money the last two years, we are grateful to those who show up to work so I support this restaurant and it's policy. Click on these photos for more views.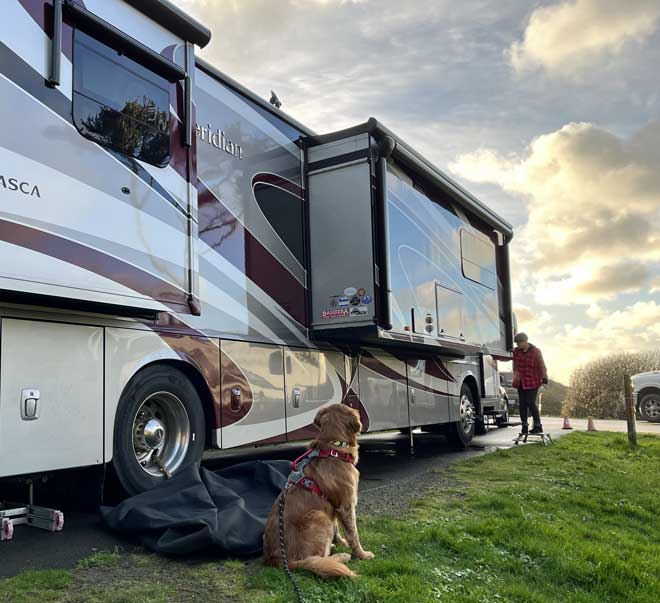 Thursday, December 9, 2021: Today was a travel day from Tillamook to Yachats, Oregon. We reserved a site in one of our favorite National Forest Campgrounds, Tillicum Beach Campground just four miles north of Yachats, Oregon. The beach is only 100 yards in front of us while we are 30 feet above sea level. We are here for four nights and stormy weather is expected all four days. We were fortunate to arrive during a break in the rain showers.
While traveling south, we passed Boiler Bay, named apparently for the cross currents creating a very rough ocean water at this point. The top photo is of Boiler Bay. I took a video of the ocean at Boiler Bay on this stormy day.
Click on both photos for more views.
Wednesday, December 8, 2021: On Monday as we were driving into the Elks RV Park my Tire Pressure Sensor was telling me there was a problem with the inner rear tire on the driver's side. I was suspecting a weak battery since they haven't been changed for 3 years. Yesterday I changed the batteries on that side of the coach but manually checked the tire pressure as I was doing it. Indeed, the inner tire only had 19 lbs of pressure. Since this motorhome has air brakes and suspension it has an onboard air compressor which I used to add air to the offending tire. I was hoping for a mechanical issue with the valve. I intention was to add air then monitor if I was loosing pressure. I soon became aware of the sound of leaking air coming from the valve. The noise was not coming from orifice, I tested that with spit. It was obvious, a tire shop was going to have to fix the problem. Today, after learning AAA would only tow us not fix the tire, I added air to the tire then drove five miles to the Tillamook Les Schwab Tire Center. They made the repair in an hour at no charge since they learned I was a Les Schwab customer. The showed me the defective valve stem. It was situated next to the outer wheel in such a way that a tiny hole was created from friction against the outer rim. They replace the stem and mounted it correctly. To make the best of the day, Gwen and I drove to Cloverdale, a tiny town 18 miles south of Tillamook on Highway 101. They have an interesting store named the Rusty Cow. There are many unusual items in this store. I found homemade ice cream in the store across the street, I got a peach cone. Before leaving Cloverdale I drove to the top of the hill overlooking the town. The Nestucca High School is located there and I took a panorama photo of the town from the high school parking lot. View this photo behind the Rusty Cow. View Steve fixing our tire behind the Les Schwab photo.
Tuesday, December 7, 2021: At the left are photos of the Tillamook Elks RV Park. The grassy area in the photos is only a small portion of the grass available for Abby to run. (Click the photo to see a wider view) I took her out several times to let her run and she took advantage. There have been showers all day so the grass was wet and she loved it.
I took Abby to her favorite store in Tillamook. It has the best dog treats and I got her two of her favorites. I also filled our external propane tank thinking ahead to our next camping location. It will not likely have propane available for some distance. Click the CoOp photo for a wider view.
Monday, December 6, 2021: This is a travel day from St Helens to Tillamook, Oregon. On our way we pass through Warrenton, Oregon where the only Costco is found on the Oregon Coast. We won't see a Costco again until we go home in late December. My friend Glen, is the Audiologist at our Roseburg Costco and wanted me to learn if the hearing aid department at the Warrenton Costco was open. Jay is the Warrenton Audiologist and I convinced him to let me take his photo to show Glen, hearing aids are live in Warrenton. We did some grocery shopping then headed to the only Tractor Supply Company on the Oregon Coast. Tractor Supply has Abby's dog food and a wonderful pet wash station for only $9.99. Abby likes the wash station, hops right into the tub and enjoys a warm bath and massage. I even trimmed her nails this time. This has been a wet day, rain since midnight. Click the photos for more views.

Saturday, December 4, 2021: Part of this rainy day, Abby and I took a drive to see some of St. Helens. The above photo is part of the St Helens Marina. It is the view seen from the Columbia County Courthouse, click this photo to see the courthouse. The day was wet and foggy. By the time I got back, Alabama had defeated Georgia an upset, Baylor had defeated Oklahoma State another upset. Both Michigan and Cincinnati won as expected. It will be interesting to learn what will happen with the national championship playoff.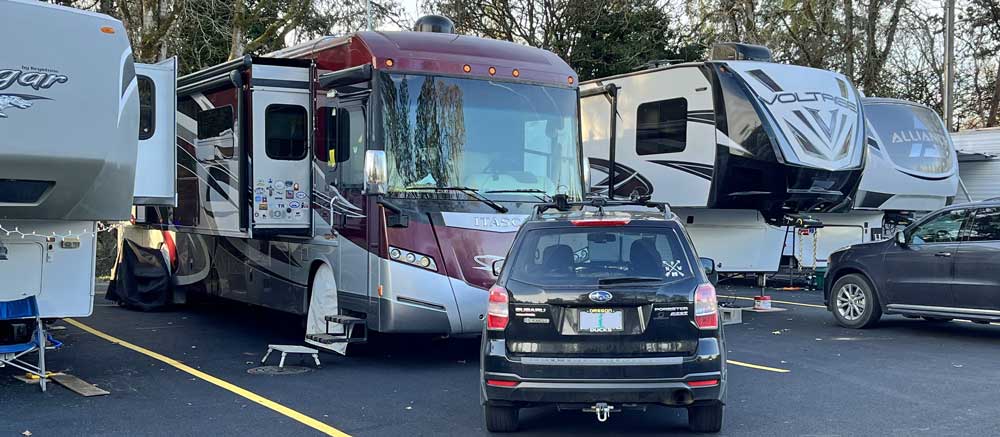 Friday, December 3, 2021: This was a travel day from the Silver Falls State Park to the St. Helens, Oregon Elks Lodge. We have visited this Elks Lodge several times. Click this link for the last time. Since this last visit much has changed. The parking lot has brand new asphalt with very modern full hookups yet the rent is still only $25 per night. Click the photo to see the lodge. The RV parking was full today when we took the last spot at 2 pm. The traffic through the Portland suburbs was heavy so happy to get west of that traffic. We will be here for three nights. Rain is forecast for tomorrow so we may visit historic St. Helens, nearby Scappoose and Sauvie Island. Tomorrow might also be a good day to sit in the lodge for a football game. The lodge has a great view of the Columbia River. If dry on Sunday, I hope to make a ride on the CZ Bike Trail.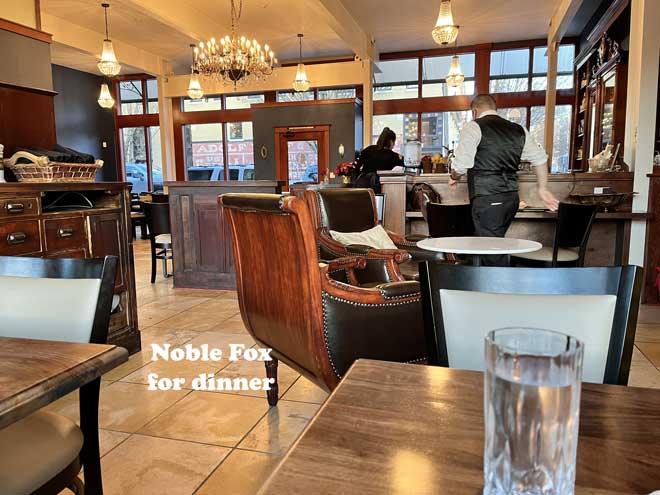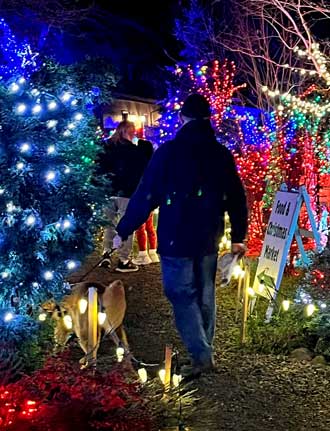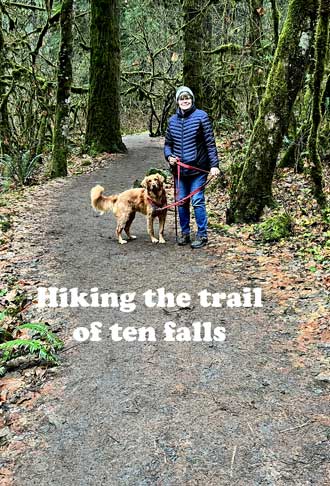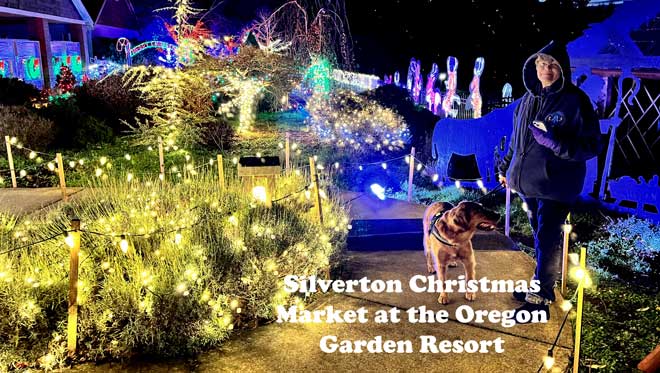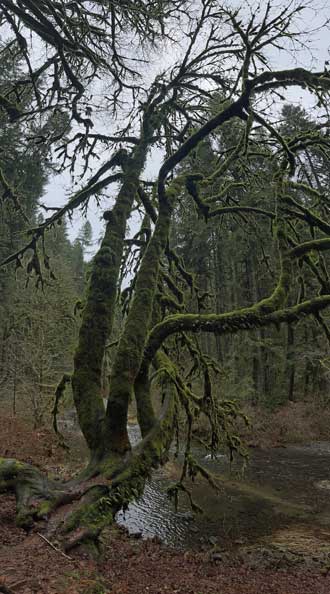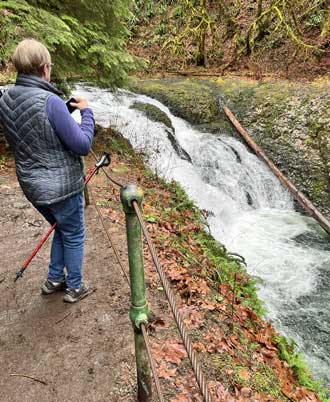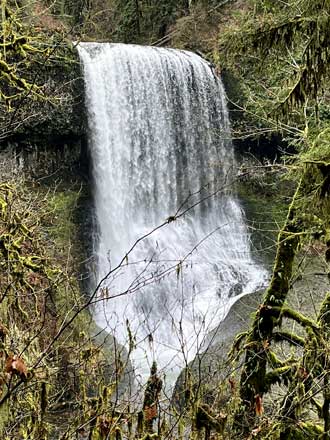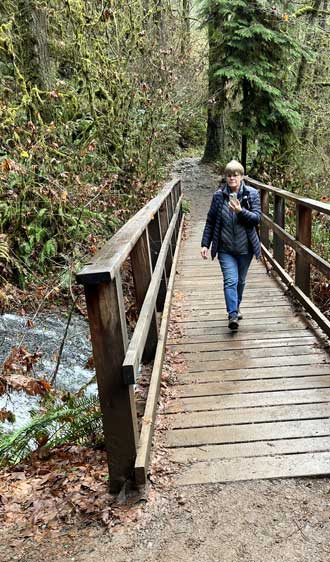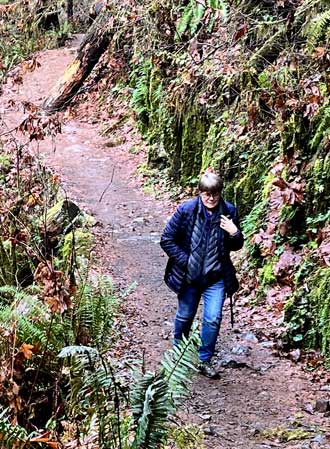 Wednesday and Thursday, December 1 & 2, 2021: On Wednesday, I rode the Silver Falls bike trails. Only about ten miles of trails but some steep climbing in places. After riding, we drove to historic Silverton, about a 30 minute drive from the park. We walked the historic district then took ourselves to a very nice restaurant, the Noble Fox in the historic district. We specifically drove to Silverton so we could visit the Christmas light display at the Oregon Gardens Resort. This is a walk through light show of Christmas characters and shapes. Dogs were allowed so Abby got to walk the show too. There were several vendors but nothing of interest to us. Somehow we found our way back to the park in the dark.
Thursday was an all day hike on the Trail of the Ten Falls inside the Silver Falls State Park. Abby was allowed to hike to the first falls, the Upper North Falls but not allowed on the rest of the trail. This is a very popular trail and we continued to comment to ourselves how this was the best time of year to visit state parks. Having said that, we also commented how lucky we were to have these days with no rain.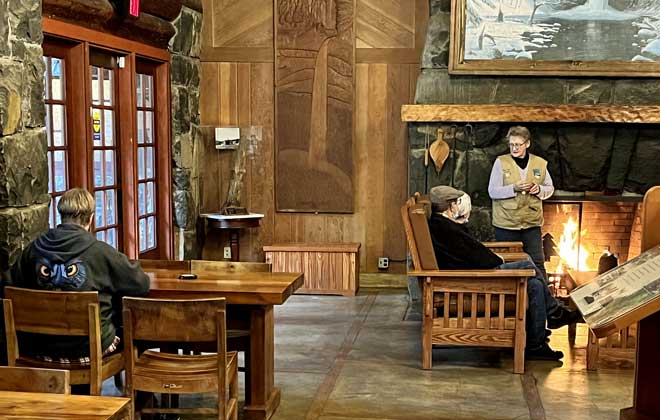 The trail is well maintained and wide and with the recent rain, the falls were running strong. You won't see photos of ten falls, I thought better of publishing all ten but your will see the better ones. I also took a video of the North Falls. It was one of several you can walk behind. The hiking took most of our day.
We took ourselves to the lodge cafe for a very late lunch where we both had a Ruben sandwich with real corned beef. The cook really knew how to fix a Ruben. After the late lunch we took Abby for a run and hike around the large grassy areas surrounding the lodge.
Tomorrow is another travel day. We leave Silver Falls for the Columbia River. Click all photos for another view with the exception of one photo in the center.
Tuesday, November 30, 2021: This is the first day of a month long trip mostly driving south on the Oregon Coast. However, our first stop for a three night stay is the Silver Falls State Park near Silverton, Oregon east of Salem.
We arrived at 1 pm in a spot we had reserved a month ago. It is a nice long paved site perfect for our 43 foot motorhome. Lots of grass for Abby but lots of mud too. We are camping in the winter so mud is to be expected. There are actually few campers so most of the park campsites are closed. I see no tents, only RVs.
After setup, we took Abby for a nice long walk on some of the park trails and through the closed part of the campground. So far, we have not been able to get the "HotSpot" on either of our new iPhones to work. So without an Internet connection, posting this account will be delayed. Click both photos for more views.

Sunday, November 28, 2021: My friend Erik and his wife, Maria had a new home party. They moved recently to a beautiful home along the South Umpqua River. In this photo Erik is in the distance along the river bank showing guests the view of the South Umpqua. Maria is in the near foreground showing Kathy and her dog, Jaba, the yard closer to the house. This is a portion of the South Umpqua River after it flows through the city of Roseburg. Our visit was enjoyable meeting other of Erik's friends. Erik did a good job on the grill for dinner.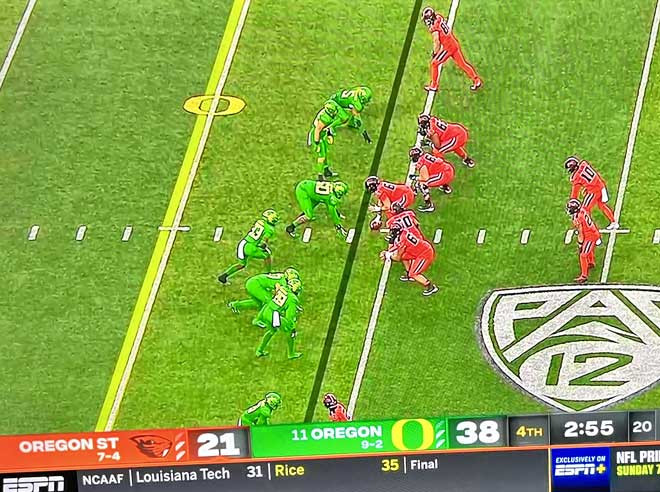 Saturday, November 27, 2021: At mid-day the Oregon Ducks secured a trip to the Pac12 Championship game. The Oregon State team did not play well especially the defense.
The Ducks had such a poor performance last week again Utah I was expecting this game to be better for the Oregon State Beavers. The Utah Utes had already secured a trip to the Championship for Pac12 south. Now the Ducks will play Utah a second time in the Championship but this time on neutral ground in Las Vegas.
It will be interesting to see how this second chance plays out since Utah beat Oregon so badly the first time.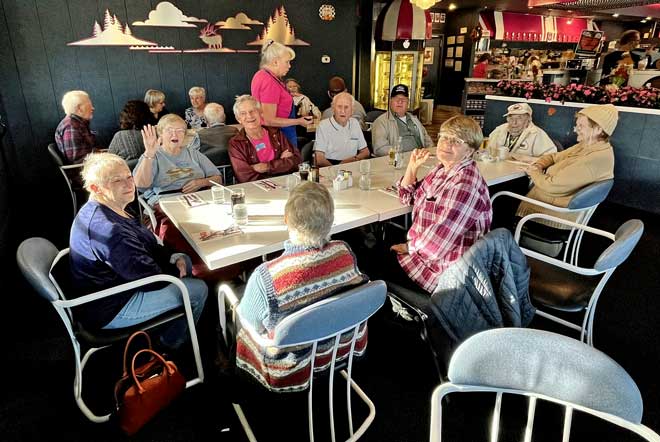 Thursday, November 25, 2021: Our plan for the day was to drive to Klamath Falls to spend the day with Gwen's daughter and grandchildren. However, her daughter became ill so we will delay the trip.
We were able to secure two seats with a small group from the park who visited our local restaurant. Gwen chose turkey while I chose ham. Otherwise the meal was a typical Thanksgiving meal with friends.
Click the photo to enlarge and notice the enlargement is in focus.
Wednesday, November 24, 2021: Gwen and I got ourselves a Thanksgiving gift for our Roku TV. TV speakers are always bad so I purchased a sound bar which specifically logs to a Roku TV. In the last photo you can see my tiny Bluetooth speaker between the TV and the sound bar. The TV was able to connect with my tiny Bluetooth speaker. By doing that I discovered there is a couple of millisecond latency when connecting via Bluetooth. Lips are moving before sound. Additionally, a Bluetooth connection would require a second remote. I discovered speakers and connections are available specifically to match the Roku TV. TCL makes a Roku sound bar to make this match. I am hoping this method has no latency. The TCL sound bar easily connected to the TV. This means only ONE remote to control both the TV and sound bar. When testing for latency there is none. Click all three photos to enlarge. When you enlarge, note that all three photos are in focus. Had the awful Samsung S20 taken these photos, all three would have been out of focus!
Tuesday, November 23, 2021: As I have explained previously the Samsung S20 Ultra phone camera is terrible. You never know if the photo will be in focus. The phone was sent to Samsung repair but nothing changed. I monitored a Facebook group of over 57,000 users and they reported the same problems with the camera reporting it unfixable. I finally gave up on the Samsung brand, they have lost me forever! I bowed to Apple and have purchased the iPhone 13 mini because I like the size. This means learning a new operating system because I have never owned an Apple phone. My son, Ben and daughter Mindy plus Gwen's son, David and daughter, Lesa all own iPhone's and really like them. I will gain from their knowledge. All photos from now on will come from the iPhone camera. BTW ... all three of these photos were taken with the S20 and all are out of focus.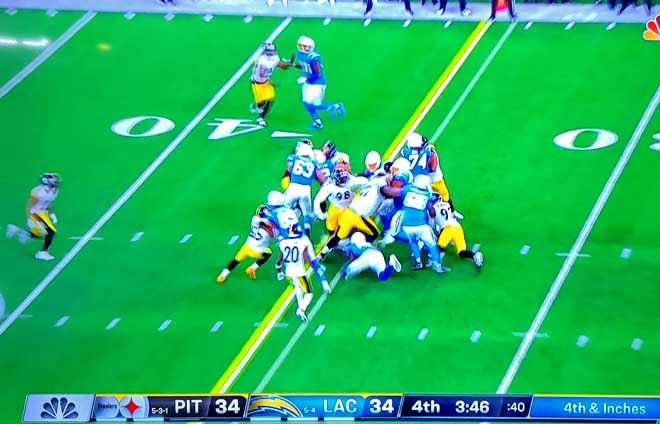 Sunday, November 21, 2021: I did a mid-day ride with Glen. It turned out to be a clear but cool day so 32 miles with Glen on roads I have never been on before was perfect. Click the photo to see our route.
Once I was home I could watch Sunday Night Football. Tonight was the L A Chargers playing the Pittsburgh Steelers. I'm always for any team playing the Steelers. Since Justin Herbert from the Oregon Ducks is the Chargers Quarterback so an even better reason to wish the Chargers win. The Steelers played a good game the second half. They tied then moved ahead of the Chargers. Fortunately the Charger offense moved ahead the last two minutes then Charger defense shut the Steelers down and the Chargers won.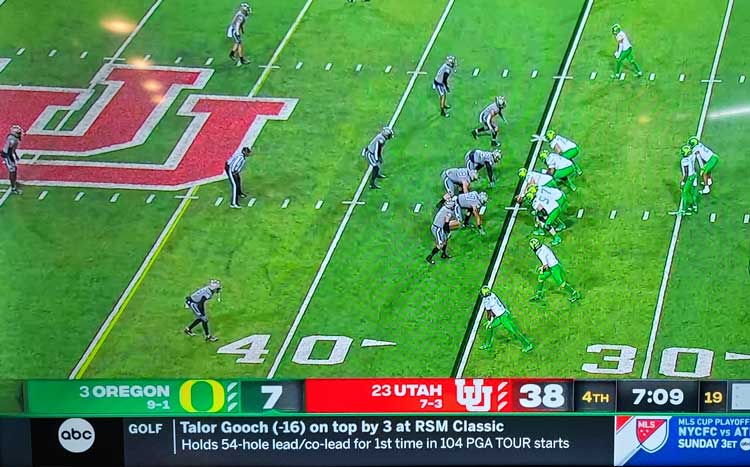 Saturday, November 20, 2021: Earlier today I watched #7Michigan State get destroyed by #4Ohio State. Michigan State should have snuck out during halftime.
Speaking of teams who should have gone home at halftime, the #3Oregon Ducks were destroyed by the #25Utah Utes. That will take the Ducks out of the final four for sure. The other interesting fact, the Ducks must play the Oregon State Beavers next week. The Beavers defeated both the Stanford Cardinals and the Utah Utes. Both those teams defeated the Oregon Ducks. Perhaps the Ducks will be defeated by the Beavers next week. I'd say "YES" if the Ducks play like they did tonight next week.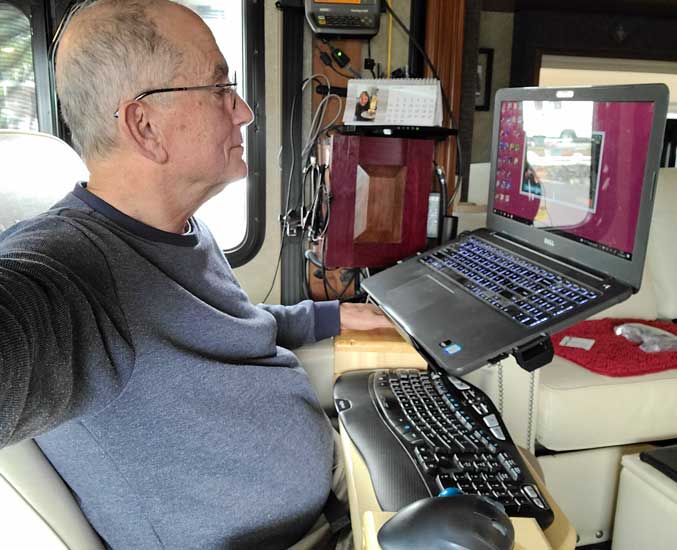 Thursday, November 18, 2021: I have been watching for my laptop stand shipment all week and it arrived today. Now I can adjust the screen distance from my eyes where ever it seems best. I use my reading glasses, so it is a perfect distance. The stand fits next to and under the passenger chair where I sit to type on the computer. When not in use it will swing out of the way toward the sidewall. So far it is working perfectly.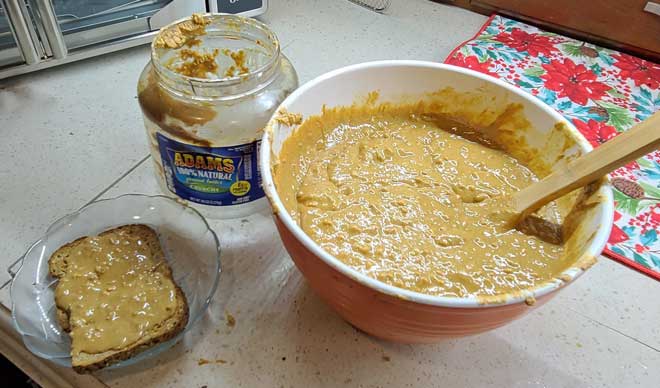 Wednesday, November 17, 2021: We like natural peanut butter, Adams which we purchase at Costco. Of course the Costco size is a large 80 oz size. The peanut oil rises to the top of the container so all of the container must be emptied into a bowl and stirred until this crunchy peanut butter is creamy smooth. It sounds like a lot of work and it is. The tough part is getting the peanut butter out of the container then back again. Hard to believe but the easy part was stirring.
With two people pouring it was much easier to get the peanut butter back into the container.
Gwen says to keep the stirred peanut butter in the refrigerator. If we do, the oil will not separate again. This peanut butter with nothing added (like sugar) is much better than the other such as Jiffy. Click the photo for the final stirred container.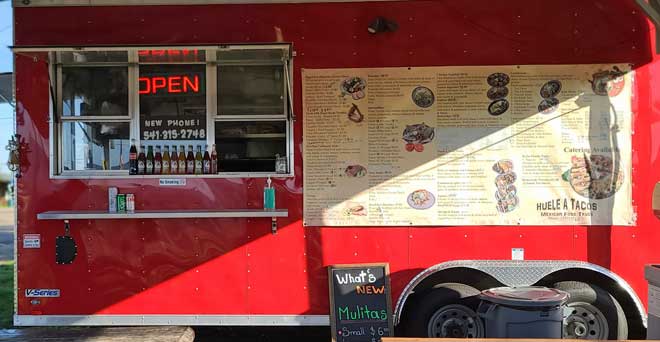 Tuesday, November 16, 2021: This day began in heavy fog and a temperature of 36°. Glen and I did our best to plan a road bike ride late morning assuming the fog would lift and the temperature would increase to high 40s. I had several reasons to drive to Roseburg so I became impatient thinking the fog was never going to lift. I left my bike at home while I drove to Roseburg, first to the computer repair store needing a simple repair to my laptop. The advertised hours showed the store open but I found it closed, opening again at 1 pm. I decided to do my other errands and return. I chose the Albertson grocery store next for coffee creamer and almond milk. Gwen had made a short list for Costco so that is where I went next. I waiting in a long line at the pharmacy to get Gwen's prescriptions. Adams peanut butter plus apples completed the list. I thought of bananas too. By this time I was getting hungry for lunch and decided to get a Costco Hot Dawg (my spelling), however, as I passed the concession area I changed my mind thinking I would get something at home. I started back to the computer repair store in downtown Roseburg. However, I stopped in a parking lot before getting to downtown. Something about that computer store reminded me of the cell phone repair store I had taken my phone years ago. That experience ended poorly. I decided I would take my laptop to the computer repair location only a mile from home in Sutherlin if they were still in business. We used them years ago and I hadn't even notice a sign on their building since then. I called from the parking lot to learn if they were still in business. They are. So I drove back to Sutherlin and to this small computer repair store. He thought he had the part, "give me 30 minutes and I'll have it fixed", he said. I left my laptop with him and drove to the only taco truck in Sutherlin to get one of my favorite vegetarian burritos. About the time I was walking back to my car with the burrito the computer repair called to say he learned he didn't have the part and would order the correct part. I knew he took only cash or check so I drove to my bank to get cash. I paid for the part with cash and got a promise he could fix the laptop as soon as the part arrived. I returned home to eat the burrito. By this time it was 3 pm and Abby had been patiently riding with me this whole day of errands. I decided to take her for a run in the back forty rather than ride, she needed the run much more than I needed the ride. The high temperature reached 47°.