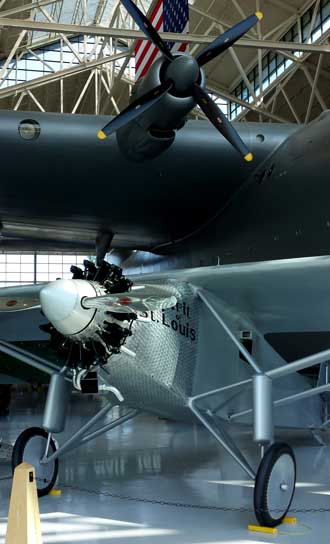 Monday, August 10, 2015: Most of the rally participants visited the Evergreen Aviation and Space Museum, only 3 miles from our campground in the fairground. We arrived at 10 am, checked in and waited for our private tour to begin at 10:30. I scheduled the private tour six weeks ago and called twice since then to confirm. At 10:30 we were told they were short of volunteers so we should join the public tour at 11:00 am. As it turned out, only half our group joined the public tour and by the end of the 1.5 hour tour, only 1/4 of the original group remained. Most dropped one by one as they became tired of standing and listening. The featured plane in the museum is the Spruce Goose (made of fir not Spruce). The museum is well done but seems to be poorly managed, perhaps because many of the workers are volunteers. I say that because of my phone conversations, the dropped private tour, and the understaffing of the only restaurant attached to the museum. The exhibits were interesting and with self motivation, a museum patron could learn much about the advancement of aviation. After the tour, I had lunch then saw an IMax movie attached to the museum.
After the museum, our final rally event was pizza at a local pizza restaurant paid for by the club. Fortunately, that went well with very good pizza. Tomorrow morning is "Hitch-Up muffins" and everyone goes their own way.
Click the photos for additional views.